HEALTHY HALLOWEEN RECIPES FROM WEELICIOUS
Related:
Halloween recipe
,
healthy Halloween recipe
,
healthy Halloween treat
,
Halloween party food
,
Catherine McCord
,
weelicious
,
cheese wafer fingers
,
gravestone brownies
,
spooky grilled cheese
,
witches brew
,
pumpkin pancakes
,
Catherine McCord, the mom behind all those nutritious and fun recipes at Weelicious.com, presents a host of healthy Halloween treats, including Cheese Wafer "Fingers," Popcorn Trail Mix, "Spooky" Grilled Cheese, Gravestone Brownies, and Witches' Brew. Serve these festive foods at a Halloween party or whip them up for some lucky trick-or-treaters -- and don't forget to get your little ghosts and goblins in the kitchen to help out!
Cheese Wafer Fingers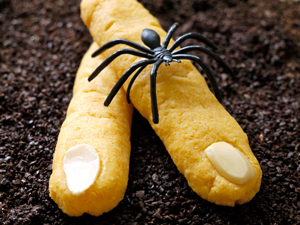 Makes about 20 two-inch Fingers
Ingredients
½ lb or 2 cups sharp cheddar cheese, grated
5 tbsp unsalted butter, cut into cubes
1 cup all-purpose flour
1 cup raw almonds, slivered or whole blanched
Directions
1. Preheat oven to 375° F.
2. Place all of the ingredients in a food processor and pulse to combine.
3. Take a piece of dough and mold into a "finger," then place one slice of almond on the top of the tip for the "nail" (press almonds down well into fingers).
4. Place fingers on a sheet pan and bake for 20 minutes. Let cool on sheet for two minutes before removing.
5. Serve.
Popcorn Trail Mix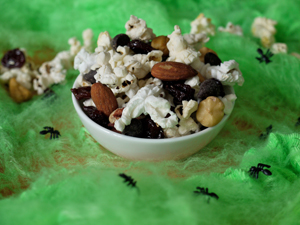 Ingredients
4 cups popcorn, popped
½ cup chocolate chips
½ cup dried cherries or cranberries
½ cup roasted mixed nuts, almonds, walnuts, or peanuts
Directions
1. Place all of the ingredients in a bowl and combine.
2. Place mixture into individual treat bags.
3. Serve.
Spooky Grilled Cheese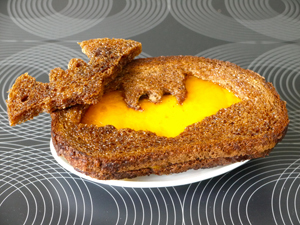 Serves 4
Ingredients
Butter
8 slices pumpernickel or dark rye bread
4 slices cheddar cheese
Directions
1. Heat butter in a griddle or skillet over medium heat.
2. Using a Halloween-themed cookie cutter, cut the centers our of four slices of the bread.
3. Place a slice of cheese on the four remaining pieces of bread and top with the cut-out bread slices.
4. Place the sandwiches in the skillet, whole side down, and cook for three minutes.
5. Flip and cook the sandwiches cut out-side down for two minutes or until golden and cheese has melted.
6. Serve.
Gravestone Brownies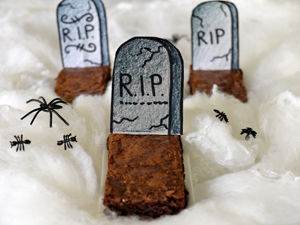 Makes 14 "graves"
Ingredients
3/4 cup all-purpose flour
3/4 cup cocoa powder
3/4 tsp salt
15 tbsp unsalted butter, melted
1 1/2 cups sugar
2 tsp vanilla extract
3 large eggs
1/2 cup semisweet chocolate, chopped (you can also use chocolate chips)
Directions
1. Preheat oven to 325° F.
2. Whisk the first three ingredients in a bowl and set aside.
3. In a standing mixer or bowl, whisk the melted butter, sugar, and vanilla.
4. Whisk in the eggs one at a time until combined, then slowly mix in the dry ingredients.
5. Pour the batter into a greased and parchment-lined 9 x 13 baking dish and bake for 30 minutes.
6. Cool, cut into bars*, and top with "grave stones".
To make gravestones:
Cut gray construction paper into stones and decorate as desired. Place a toothpick on the backside of the stone and attach with a piece of tape, then poke the gravestone toothpick into the brownie.
*Note: When cutting your brownie, use a long serrated knife and wipe it off in between cuts.
Witches' Brew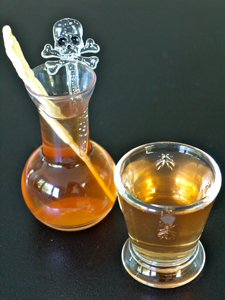 Serves 4
Ingredients
2 cups apple cider
2 cup cranberry juice
1 stick cinnamon
1 tbsp lemon juice
Directions
1. Place all ingredients in a pot and simmer on the stove for 10 minutes.
2. Serve.
Catherine McCord, mom to Kenya (4) and Chloe (2), posts her own quick, nutritious recipes daily at her acclaimed blog Weelicious.com. The ease of her recipes, which rely on fresh but minimal ingredients, make her blog a go-to destination for busy parents who want to make the most of their time and still feed their family well.
---
Get Your FREE Indoor Activity eGuide!
---
More Halloween Articles Articles
7 Tips for Trick-or-Treating with Your Toddler
New Book Encourages Kids to Give Up Halloween Candy
Halloween Activities in Bucks County, PA
DIY Alien Monster Egg Halloween Decoration
Toddler-Friendly Halloween Events in Fairfield County, CT