One of the most common questions that teachers are asked is how parents can help with homework.  Every teacher has slightly different ideas about this, but here are some guidelines.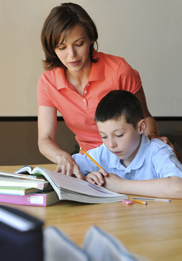 Set up a spot for your children to do their work.
  Stock a desk or the kitchen table with all of the necessary supplies, from pencils to index cards to calculators, so no time is wasted fishing around for what they need.    
Keep it consistent.
Should homework be done right after school, before playdates and dinner?  Or is it easier to be done after dinner but before a bedtime activity?  Figure out the best time to do homework in your house, and then stick with it. Take into consideration how many after-school commitments your children have, their energy levels at different times of day, and what routine you can enforce regularly.   
Let children know that homework is important.
  Let's face it – kids don't like doing homework.  But it reinforces what they learn during the day, it allows teachers to see student work in a different light, and it keeps families in the loop about what goes at school.  It's important that you remain positive and supportive about homework.  If you have an issue with the amount or type of homework being given, go directly to your child's teacher.   
Talk through the directions.
Nothing is more frustrating than getting halfway through an assignment and realizing that you're not doing it correctly! One of the most straightforward and helpful ways you can be involved in your children's homework is to have conversations with them about the directions.  Ask them what they need to do, then read the directions yourself and make sure that as many questions as possible are answered before kids begin.     
Check the work and talk about mistakes. 
Teachers don't want parents to do homework, but they know that if work is being done at home, parents are involved in some way.  It's a fine line.  One way to walk this line is to check your child's work.  It gives you a good sense of how your child is doing and alerts you to any potential problems.  If you see mistakes, though, whether it's one or a lot, don't make changes yourself once your child has gone to bed.  And don't tell your child the right answers and have him pencil them in blindly.  Instead, point out errors and allow your child to decide what to do from there.     
Communicate with teachers about what you see at home. 
Teachers are quick to acknowledge that parents are students' first and ultimate teachers.  Parents notice things that teachers might not, or may pick up on a difficulty sooner.  If you see your child struggling with something, send a quick note.  Let your child's teacher know that the homework was difficult and ask if there is anything specific you can do to help.  Teachers love this kind of communication — it's supportive and helpful and fosters a sense of community.    
Know where to go for help if you need it.
  There will be some assignments that you don't understand yourself and, as a result, feel ill prepared to help with.  It's okay to admit this to your children. Public libraries are great resources.  There are also excellent homework help lines and websites.  Many schools will have resources like this at their disposal, so check with your child's teacher if you are interested in finding one.
   Homework is designed to help, not burden or overwhelm or frustrate.  Remember that you need to work with teachers to provide your children with the best possible learning experience, and homework is one very natural way to do that.
JENNY RICH, a former teacher in the New York City public schools, received her Master's degree in Reading and Literacy from Bank Street College of Education, where she later worked as adjunct faculty.  She now stays home with her son and runs www.ethansbookshelf.com, a children's book review website.