Summer is a time for de-stressing after a super-long, jam-packed fall, winter and spring.  It's also a time for reconnecting with your kids.  During the school year, we hurdle our children from activity to activity — always rushing to be on time.  Make summer a time to move slowly, talk more and be more present. Shift your perspective from "fitting in time with your kids" to "organizing your time around your kids".  Same result, but a lot less stress.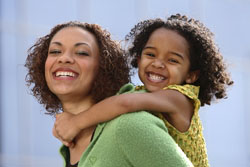 The following tips are for parents who remember how wonderful summer can be and want to rekindle that joy through their children:
1.  Put a series of half-day parent/child events on your calendar and schedule everything else around them.  We make the mistake of thinking that going to the zoo, the beach or the park is an all-day event.  But you can take a walk or hike up some hills after dinner, or go to the beach in the morning and be at a business meeting by 2pm.  Once you do it, you'll realize how much of the summer you really can enjoy. Look at all the possibilities with the activities listed below. You can do them all!
a) Collect shells on the beach, 9am-noon
b) Zoo, 3-6pm (closes at dusk)
c) Bicycle ride (visit one of Westchester's wonderful trails), 6-8pm
d) Hike up Turkey Mountain, 5-7pm
e) Rye Playland, 2-5pm (closes very late)
f) Catch fireflies in a bottle, 9-11pm    
2. While reality prevents many of us from putting half-day activities on the calendar every day, we can include our children in our 'to-do' list. These should be tasks or activities that take 10 to 20 minutes to complete.  We can add activities to our lists that involve our children, or find ways of including kids in other tasks: 
a) Pay bills (kids to do math sheets while you do your work)
b) Play Scrabble with kids
c) Take Joey along to the grocery store
d) Cook dinner (Jane washes lettuce, Joey cuts cucumbers)
e) Walk dog together
f) Play catch
g) Weed garden together (make a game and see who gets the most weeds in their basket)
3) Create an activity closet.  Someone very wise once said, "Boredom is the mother of creativity."  While this is true, it doesn't hurt to have plenty of supplies to keep your children busy. You can also have a lot of fun putting this together with your children. The closet allows kids to have all the supplies they need at their fingertips for hours of solo creative play.  Your closet (draw, cabinet or box) should include anything your children need to create without you.  Depending on their ages, here are some suggestions:
Basics: Play dough, crayons, washable markers, scissors, coloring books, Scotch tape, colored paper, lots of glue
Better: Oak tag in many colors, tracing paper, rolling pins and cookie cutters for play dough, ink stamps, large sheets of white and colored paper, lanyard, stickers, beads, stretchy string for jewelry making, felt, glitter pens, box of ice cream sticks for building (extra glue)
More elaborate: Dress-up clothes, wigs, face paint, puppets, string, ready-made creativity kits to make just about anything
4. Smile often.  Doesn't it make you feel great when you walk into a room and someone smiles at you? Let your kids know you are happy to have them around with a great big smile when they walk into the room.
5. Brainstorm.  Have you run out of ideas of things to do?  There is no reason this has to fall solely on your shoulders.  Kids are great brainstormers, so see what they have to say.
6. Create a parent/child book club.  Depending on the age of your child, you can read together, or buy two of the same book and read it together.  Take the time to talk about your book, and maybe invite other families to join you.
7. Slow down and be present. Hone in on your listening skills.  Make eye contact with your children when they are telling you a story and don't let your minds wander — they can tell when you aren't really listening.  When you're with your children, try to be really with them. 
LINDA RICHMAND, certified Empowerment and Life Coach, and mother of three (ages 18, 16 and 10), coaches adults to move forward in their lives, parents who want to empower their children to be independent thinkers, and parents whose children have challenges to be effective advocates for their children.  She is a member of IPEC (Institute for Professional Empowerment Coaching), ICF (International Coaching Federation), and CHADD (Children and Adults with Attention Deficit Disorder).  She leads parent and goal achievement workshops throughout Westchester and meets with clients individually at offices in Chappaqua and at Full Circle Family Care in White Plains. She can be reached at (914) 238-1041; www.CoachRichmand.com.