Most parents have a love-hate feeling towards Halloween. They love dressing up the kids and making the house look spooky, but making a good costume is easier said than done. There are always concerns about the safety of trick-or-treating children and the ensuing dental bills. Parents shouldn't get too spooked however, NYC, Brooklyn and Queens have plenty of safe and fun events planned for this Halloween.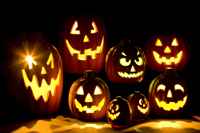 What's up in NYC...
The first big bash of the season will be held at the Brownstone School with the annual Halloween Fun Fair. Families can enjoy a bevy of kid friendly workshops, activities and crafts in celebration of the big day. October 18, 11am. FREE. Brownstone School, 160 West 78th Street. 212-874-1341.
Those who want to celebrate both the holiday and a good cause should pop in to the Dream Halloween event hosted by the Children Affected by AIDS Foundation,October 19 at 3pm. Roseland Ballroom, 239 West 52nd Street. For tickets, call 347-835-1205 or go to www.ticketweb.com.

For a Halloween with some real-live scary animals head to the Central Park Zoo for the annual Boo at the Zoo event, where animals join in on wolfing down treats. October 25 at10am. $8, $3 children under 12. Central Park Zoo, Fifth Avenue at 64th Street. 212-921-9070. www.centralparkzoo.com.

Families hoping to stay healthy this year should head to the Broomstick Bash, a special party with a focus on healthy trick and treating. October 28. 3:30pm. FREE. Mount Sinai Medical Center, The Annenberg Building, Main Lobby, 100th Street and Madison Avenue. www.divabetic.org/bbash.php.

And on the big day itself one of the city's most treasured museums turns creepier than ever when the American Museum of Natural History hosts the Halloween at the Museum. Visitors are invited to trick or treat in warmth and safety among the dinosaurs, elephants, and other-worldly universe. October 31. 4pm. All ages. $10. American Museum of Natural History, Central Park West at 79th Street. 212-769-5100. www.amnh.org.

Brooklyn happenings...
Prospect Park hosts a slew of activities the weekend before the 31st. Kids can visit the park's Audubon Center to see some creepy critters, hear scary stories at Lefferts Historic House, or show up at the Haunted Walk and Carnival, full of fun, games and costumes. 12pm. All ages. FREE. Prospect Park. 718-287-3400. www.prospectpark.org.
Families looking for a truly creepy experience should head to the Greenwood Cemetery for the Halloween at Green-Wood Walk, Parts 1 and 2, where families can celebrate the holiday with tales of murder, mayhem, spirits and ghosts. Saturday-Sunday, October 25-26. 1pm. All ages. $20. Green-Wood Cemetery, 25th Street and 5th Avenue. 212-439-1090. www.green-wood.com.
On the big day families can pop into the Brooklyn Arts Exchange (BAX) for their Family Friday Halloween celebration. Kids should come in costume for this Halloween dance party. 9:30am. All ages. $20 per family. Brooklyn Arts Exchange, 421 Fifth Avenue at 8th Street. 718-832-0018. www.bax.org.
And in Queens...
On the Saturday before Halloween, October 25, the Long Island Children's Museum will be hosting a Ghostly Gala complete with a special bat presentation. 6pm. All ages. $9. Long Island Children's Museum, 11 Davis Avenue, Garden City. 516-224-5800. www.licm.org.
On the same day and two other dates, the Queens County Farm is throwing a Halloween Haunted House event where hayrides, Halloween treats, mulled cider, pumpkins and apples will be sold. The house is recommended for children ages 4–12. October 25, 26 and 31. 4pm. $4. Queens County Farm, 73-50 Little Neck Parkway, Floral Park. 718-347-3276. www.queensfarm.org.
There are also dozens of events planned at local libraries. Our events calendar has all the details.