A roundup of holiday festivities and destinations worth traveling for, but close enough to the New York metro area to keep planning simple.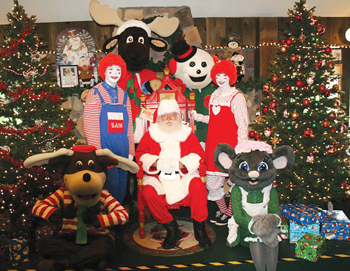 There is certainly no shortage of holiday cheer in New York City. Families flock to the windows of Macy's on 34th Street to see the vibrant displays; the Christmas tree and giant Menorah at Rockefeller Center are a staple of the holiday tradition; and there are plenty of opportunities throughout all of Manhattan for kids to sit on Santa's lap.
But sometimes, taking a short trip to neighboring areas might bring some extra flair to the holiday season. Throughout the northeastern region of the United States there are plenty of Santa-sighting opportunities, holiday light festivals, markets, and other Christmas events to make anyone jolly during the season.
Getting out of the city for a day or two before the holidays is an excellent way for parents and
children to reconnect during the busy season. Here's a snapshot of some varied celebrations within
driving distance.
North Pole, New York
Located nearly 300 miles north of the Big Apple, the North Pole has been the home to Santa and his workshop elves since 1949. Nestled on the side of Whiteface Mountain near Lake Placid, this storybook town comes to life during the holidays. A Christmas theme park, the North Pole features the Candy Cane Express, Christmas Carousel, Santa's Sleigh Coaster, the Peppermint Swing, and the Yuletide Bounce House. Throughout the season there are plenty of shows featuring Santa and all of his helpers. A favorite of the entire family is the North Pole Post Office, where kids can send themselves a postcard stamped "North Pole!"
Christmas Town Festival, Bethlehem, Connecticut
Travel 100 miles to Bethlehem, Connecticut, for the town's annual Christmas Festival. Inviting visitors to follow the star, the festival opens on Friday, December 3, 2010, with a tree lighting in the evening. After a night of singing carols, the following day is when the fun begins. Every year the festival is open to vendors selling a variety of holiday-themed crafts and goods. While parents shop, children can head to the activity center and write their own letter to Santa Claus and create their own crafts.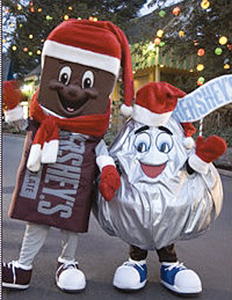 Christmas in Hershey, Pennsylvania
Hershey Park, less than 200 miles from New York City, is the birthplace of chocolate and candy. On any regular day, Hershey is a sweet tooth's paradise, but during the holidays this town is ever tastier. Check out Christmas Candyland, where more than two million lights and holiday-themed rides make for festive family-fun. And the steaming mugs of Hershey's famous hot chocolate will keep you warm as you wander through the quaint shops. Chocolate Town offers some cheer as your favorite holiday tunes are performed in the show "Traditions of Christmas." If you are looking for a scenic tour, consider driving through the Hershey Sweet Lights for a magical winter wonderland of more than 600 lights illuminating two miles of wooded trails.
Polar Express, New Hampshire
Located in the majestic White Mountains, this is the original Polar Express! Running on weekends during late November and throughout December, this one-of-a-kind two-hour train ride gives families a four dimensional and interactive experience through the mountains. With treats in hands, guests take a walk through the North Pole Theater, where they become acquainted with Chris Van Allsburg's storybook classic, Polar Express. Then it is off to the train with a group of friendly elves - and, of course, Santa Claus himself.
Holiday Festival of Lights, Camden, New Jersey
Just outside of Philadelphia, along New Jersey's Camden Waterfront, is the Camden Children's Garden - home to the Holiday Festival of Lights. On Fridays and Saturdays from December 3-18 at 5:30pm, families can stroll through the 4.5-acre garden that is illuminated with more than 100,000 lights and animated light sculptures. In addition to meeting Santa Claus, kids can enjoy a variety of rides in this enchanted wonderland. There is an opportunity to see live butterflies, explore the Tropical Holiday exhibit, and even get a cultural understanding of the Hispanic tradition of Three Kings Day.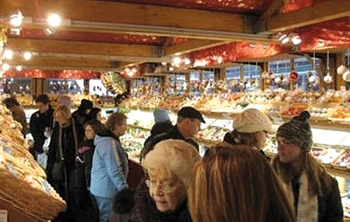 Christkindlmarkt, Bethlehem, Pennsylvania
A tradition of the Old World that is still popular in European nations, Christkindlmarkts are extraordinary town festivals expounding holiday spirit. Bethlehem adds an Americanized twist to the tradition. Featuring an array of homemade arts, crafts, and gifts, the Christkindlmarkt has vendors selling everything from jewelry to ornaments to quilts. The kids will love to buzz around as musicians perform an assortment of holiday classics and other tunes. They can also meet Old St. Nick and watch ice carving demonstrations. Plus, there is no better way to warm up than by enjoying fresh apple strudel and warm hot cocoa.
Jillian Ryan is a freelance travel writer who lives in Brooklyn. The holidays are her favorite time of year - delicious meals, presents, fresh cookies, and most importantly, time to reconnect with family. She wishes all the readers of Big Apple Parent a happy and healthy holiday season!