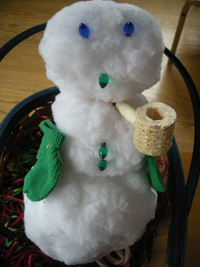 This year, keep the kids at your holiday parties entertained with some fun, seasonal crafts.
Jingle Bell Necklaces
In bright bowls, place an assortment of jingle bells for the kids to thread onto thin satin ribbon.  Help them tie a tight knot to hold the jingles on the necklace.  The kids can wear these throughout the party and take them home as a goody.
Make a Snowman
You will need:
Styrofoam balls in three shapes: large, medium and small
Toothpicks
Puff paints or paint pens
Fake snow
Orange and black construction paper
Black buttons
Glue
Stick the Styrofoam balls together with the toothpicks and then decorate them like snowmen. Kids can glue the buttons on as eyes or just use puff paints and paint pens. Give the snowmen top hats made out of the black construction paper. Make a nose using the orange construction paper. 
Draw Winter Scenes
Provide construction paper, markers, glitter glue, cotton (for fake snow), etc., so the kids can make their own wintry scene.
Mini Christmas Trees
Purchase a few mini Christmas trees and invite the kids to decorate them with ornaments that they create from craft materials, e.g., cotton balls, popcorn, glitter glue, gold foiled candies, and any other small items around your home.
Shaving Cream Snowmen
With a can of shaving cream and newspaper, let the kids whip up their own snowmen.This is loads of fun. It's also messy, but it certainly keeps the kids smelling clean!
LISA KOTHARI is the founder and president of Peppers and Pollywogs (www.pepperspollywogs.com), a kids' party planning company that provides parents with ideas, entertainers, and interesting web-based tools (customized rhymes and cards for your invitations). She has recently written and published Dear Peppers and Pollywogs…What Parents Want To Know About Planning Their Kids' Parties, available at Amazon.com and www.pepperspollywogs.com.