To help you sort through that dizzying array of toys in the stores, here are a few of our favorites for that special boy in your life. This "Santa's List" of toys for boys includes bears aplenty, science kits, interactive learning games for those just learning to read, sport simulators, and sing-a-long Wii for that budding pop star.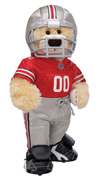 Speaking of pop stars, and their fans, this season's Jonas Dog Build-A- Bear was inspired by the Jonas Brothers' Disney Channel Show. Intricately detailed and dressed in cutting edge style­ with a chain pendant included, this is a must-have for Jonas Brothers fans this season. Build-A-Bear also features a personalized Champ Bear in Ohio State University Gear (you can have them build your own team's bear too!), and another boy friendly bear, Snow Patrol Cuddly Hugs Blue Teddy. All bears are viewable at www.buildabear.com.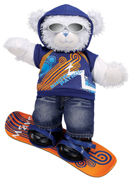 If you want a teaching bear, Chicco's Teddy Count-with-Me-Bear is not only cute, but bilingual (English and Spanish) as well. Appropriate for boys ages 6 months and up, this bear is not only adorable, but smart too - Teddy can count, sing, and recite the ABCs. He's part of a series of Bilingual ABC toys produced by the company that helps develop skills in children ages 6-18 months. Visit www.chiccousa.com.
Interactive learning toys are a great way to help your child become computer savvy early on. Itza Zoo encourages creativity, reading comprehension and word recognition. This drawing game allows your little zookeeper to draw a magical world for some adorable animals. Find it at www.sabigames.com.
A more traditional approach to the ABCs, with a twist, are the Superphonic Decoder Cards developed by teachers to engage the imagination of young children and reinforce early learning skills in a fun way. Available at www.alphbotz.com.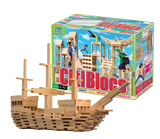 Encouraging your child's curiosity and eagerness to learn before they reach first grade gives them a head start, so here are some products that are both fun and educational.
For the young architect, CitiBlocs are new age, nontoxic, uniform wooden construction blocks that enable children ages 3 and up to imagine, create, and build. Visit www.citiblocs.com.
For those interested in science, the Explore Space and Go Green-Save the Earth minikits (part of the Let's Go Science Series by The Young Scientists ClubTM) are great stocking stuffers. They provide hours of fun activities for young scientists ages 5 and up. Find the kits at www.kidsciencekits.com.
Young anthropologists, ages 4 to 10 will love the Giant Timeline: 600 Million Years of Life on Earth. It's an 18-foot walk-on illustrated play mat with 67 bizarre ancient creatures and great activities - fun for kids and adults too. At www.charliesplayhouse.com.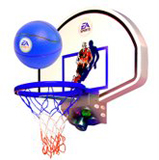 If you've got the creative type...Disney Sing It Pop Hits (for Wii) lets kids take the karaoke challenge, and rock the latest hits and videos. All Disney products are available at www.disney.com.
And for the prankster - our favorite, The Marshmallow Shooter, may be your worst nightmare, but will provide hours of sticky sugar-filled fun. For ages 5 and up, this "gun" shoots minimarshmallows 30 feet. Proceed with caution to www.marshmallowville.com.
For the jock, EA Sports specializes in simulated sports toys. Sure-Shot Basketball and Voice Command Quarterback allow your outdoorsy child to have fun indoors. EA's website is www.easports.com.
Look for our picks online, or in stores, so that whether he's naughty or nice you can find just the right toy for the boy.
Also see our Holiday Dolls Guide to find the perfect companion for your little girl, and our guide to the 20 Hottest Toys of the season.