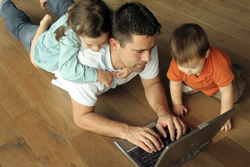 The My Stuff Bags Foundation recently distributed their bags to children evacuated during the wildfires in southern California. But this non-profit works year-round, providing duffel bags filled with new belongings to abused, neglected, abandoned and displaced children, newborn to age 18.

"Each My Stuff bag carries the message, 'Lots of people care about you,'" says Janeen Holmes, president and CEO. The bags contain essentials like toothbrushes and toothpaste, toys, stuffed animals, books, games, clothing, school supplies, and one of the most comforting and important items — a cuddly blanket, often made by volunteers.

Since its launch in 1998, the nonprofit has donated more than 320,000 bags to children in more than 1,100 organizations. To make a donation, call 866-3MY-STUFF or visit www.mystuffbags.org.
————————————————
You can help Toys R Us and Babies R Us meet its $4 million goal this holiday season by donating new toys and/or cash at any of its stores. The company kicked off this year's campaign with $1 million worth of toys and a grant of $100,000 — all this goes to the Marine Toys for Tots drive.

They've also created a special storybook, A Lesson in Giving. If you purchase the book, now through December 31, 100 percent of the purchase price will be donated to Toys for Tots.

Cash donations will be accepted through December 24. And this year, Toys R Us is matching the total number of toys collected in all stores nationwide to provide Toys for Tots with twice the number of toys for needy kids.
——————————————————————
Non-profits have long raised money through silent auctions, but now the Internet helps far-flung folks connected to a cause — or parents who can't get a babysitter to attend the school gala — to donate without actually attending. cMarket.com helps non-profits by running auctions online. For a group like the Brooklyn Academy of Music, the online auction has proved beneficial in selling artwork; art is displayed in the lobby of the Academy, and anyone passing through on the way to the theater or a movie can view the art, then bid online. For schools like the Bronx High School of Science, online auctions have allowed alumni to more easily support the school. You don't need to know anything about an organization to bid; in fact, you can search cMarket and find auctions in health care, arts, education or community improvement. Once you bid, you are sent an email confirmation, and an email if you are outbid. For more information, go to www.cmarket.com.
———————————————————————
The national non-profit Operation Homefront, which provides emergency assistance and morale to our troops, to the families they leave behind, and to wounded soldiers when they return home, is handing out 3.8 million gifts to military families in financial need at December events at military bases nationwide. You can donate cash, and buy grocery commissary certificates, and Military Exchange gift cards at the website: www.operationhomefront.net.
——————————————————————
Even kids cracking open their piggy banks can contribute at ChangingThePresent.org. More than 1,000 gift opportunities are listed, starting at $2, so you can choose the cause that's relevant to your family. For instance, $5 will put two brand new books into the hands of a child in need through First Book; through the Campaign for Female Education, $14 will provide a pair of sturdy shoes for an African child who has to walk long distances to school on scorching roads.
———————————————————————
Academy award-nominated actress Abigail Breslin hand delivered toys to children at the Morgan Stanley Children's Hospital of New York-Presbyterian on Tuesday, December 4. Breslin is a spokesperson for Duracell's Power a Smile campaign, which continues across the country with child Holiday Ambassadors delivering toys to hospitalized kids.

Duracell is also asking families to upload photos of their smiling children onto a special website. For every photo uploaded to www.powerasmile.com, Duracell will donate a dollar to children's hospitals.