Related: holiday lighting, the american lighting association, decorating for the holidays, ,



Make your home glow for the holidays. Use these tips and ideas from The American Lighting Association to create holiday lighting that warms up winter and makes decorating for the holidays easier.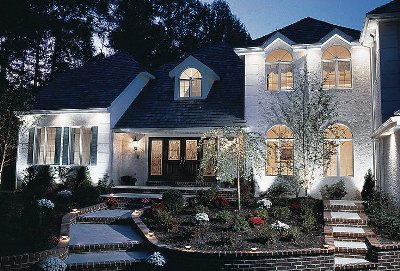 Make your home's entrance a priority. The front door is more than just the entryway into your home; it's also the first impression for family and friends. Start by adding a few, easy-to-install landscape uplights to highlight trees and shrubs, or path lighting to illuminate a sidewalk or driveway. "Tree lighting uses the heights of the trees to spread the light out in a soft and subtle way to bathe the area in light," says Richard Lentz, owner of Dallas-based Lentz Landscape Lightingand its interiors division Lentz Services. Do-it-yourself tip: Go for low-voltage landscape lights, which are easy to install and consume less energy.


Add drama with color-changing lights. Newer LED lights can add custom color scenes that complement a specific holiday decorating mood. "You can produce the exact ambiance you like at any moment during your party or gathering this season," says David Wilkins, president and CEO of American Lighting Inc., in Colorado. "Colors can be changed at the push of a button without changing the fixture, making these products useful year round."


Use lighting to create a focal point. Lights can draw attention to virtually anything – a centerpiece, buffet, unusual decoration – which helps guests know where to focus their eyes.


Add portable spotlights as highlights. These small, inexpensive fixtures typically work with a tabletop dimmer and can create pretty silhouettes, particularly under a Christmas tree, shining up through the branches.


Illuminate corners. When decorating with lights for the holidays, make your space feel larger by placing spotlights in room corners to illuminate dark spaces.


Swap out lighting accents. Replacing a neutral lampshade with one that is red or gold will soften the light and create a pretty atmosphere when decorating with lights for the holidays. Replace a chandelier's crystal teardrops with gold, silver or red glass balls, or add a few shade charms, available at many craft stores, to add some sparkle and fun. "One of the great things about this time of year, when there are a lot of festive gatherings, is that it's all right to break away from a few traditions and try some new things with lighting and decorating," says Bruce Hathaway, national sales manager for the Vermont-based lighting manufacturer Hubbardton Forge.


Check your dimmers. According to Joe Rey-Barreau, education consultant for ALA and an associate professor at the University of Kentucky's School of Interior Design, "Dimmers are ideal for creating that perfect look, regardless of the season, because they allow for the general lighting to play a supporting role."


Update your powder room. "It's often the smallest room, yet if you measure the worth of the powder room by the amount of traffic a room gets per square foot, the powder room could easily be the most valuable space in your house," says Rick Wiedemer, president of Hinkley Lighting. A few simple, extra touches, such as a portable lamp with a colored shade, will make a huge impact.


Try novelty lights. Consider themed novelty lights for a bit of fun when decorating for any holiday. "Try string lights in shapes or LED crystal lights on a festive mantle," says Edward Cook, president of National Specialty Lightingin Colorado.


Visit your local ALA-member lighting showroom to discover more ideas for decorating with lights for the holidays. For information, visit The American Lighting Association.
---
Get Your FREE Indoor Activity eGuide!
---
More Home Services Articles
Your Driver Is Here Offers Car Service for Minors
Indoor Environmental Wellness Company Opens on Long Island
Car Seat Installation Lessons at Your Home
Tips for Finding a Great Roofer
GE Educates Families to Prepare for Power Outages

Be a good fellow parent and share this with a friend who would be interested
Local Home Services Sponsors
See Our Home Services Directory