December is filled with family-friendly holiday shows throughout Fairfield County, CT. Get the details here.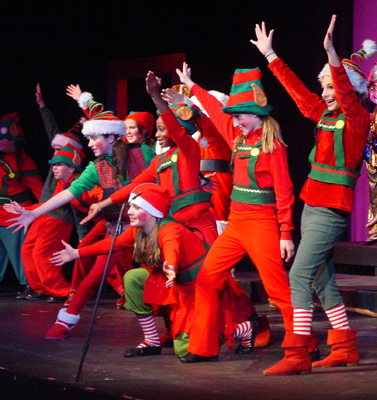 If you're feeling stretched thin with shopping and decorating for the holidays, why not take time out from the frenzy and bring your family to one of the holiday shows playing in the area? It's a great way to slow down and enjoy the season.
Travel to Mother Goose Land for Babes in Toyland, where young performers in colorful costumes sing the music of Victor Herbert. December 4-5. 3pm and 6pm. $12; $7 children 16 and younger. Crystal Theater in Ben Franklin Center, 66 Bayview and Hillside Avenues, South Norwalk. 203-847-4850.
Enjoy a holiday mystery in Sister's Christmas Catechism: The Mystery of the Magi's Gold. December 3, 8pm; December 4, 4pm and 8pm; December 5, 2pm. $20-$35. The Shubert Theater, 247 College Street, New Haven. 203-624-1825.
Hear seasonal masterworks, German carols and lullabies, and Bach's Mass in B Minor in A German Christmas, presented by the Greenwich Choral Society. December 4, 2pm and 4:30pm; December 5, 4:30pm. $20-$35; one child under 12 free per one paying adult. Christ Church, 254 East Putnam Avenue, Greenwich. 203-622-5136.
Holiday Spectacular is a musical production from Tony Award winner Debbie Gravitte, who directs and heads a cast of local talent. December 11, 2pm and 6pm. $25; $20 children. Ridgefield Playhouse, 80 East Ridge, Ridgefield. 203-438-5795.
Magic, music, special effects, and audience participation are the highlights of Season's Greetings. December 12, 1pm and 4pm. $15. The Westport Country Playhouse, 25 Powers Court, Westport. 203-227-4177.
Children aged 4-12 from the Fairfield County Children's Choir perform holiday standards including music by Schubert, Kodaly, and Copland in their Winter Changes Concert. December 12, 3pm. $15-$20. Klein Memorial Auditorium, 910 Fairfield Avenue, Bridgeport. 203-414-4292.
A new Script-in-Hand play reading with music, The Greatest Gift, tells the story of the Smith-Baron family and how they learn the true meaning of the holidays. December 13, 7pm. $15. Westport Country Playhouse, 25 Powers Court, Westport. 203-227-4177.
Male performers from the New York stage sing pop, funk, gospel, jazz, and folk versions of holiday and Broadway standards in The Broadway Boys. December 18, 8pm; December 19, 3pm. $30-$40. Westport Country Playhouse, 25 Powers Court, Westport. 203-227-4177.
A brass quartet backs up the Community Carol Sing at the Mystic Seaport. December 19, 3pm. Free admission with the donation of a canned good item. Mystic Seaport, 75 Greenmanville Avenue, Mystic. 860-572-5315.