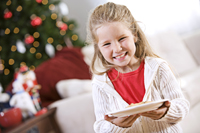 Preparing for a big holiday meal does not have to be a chore. In fact, you can get your kids involved in ways that are actually fun for them, and in the process have more fun yourself!
   In our family, we usually have about 25 people come for Christmas dinner. Here are some rituals we follow that work for us all.
Think Theme
   We start by picking a theme for the meal; it could be snowmen, or Christmas trees, or a color scheme like red and gold. I take the kids to inexpensive stores (some in our area include Home Goods and Target) and pick up fun items that tie in with our theme. For our snowman theme, we might choose decorative snowmen to put on the table, or assorted snowman candles, or even cocktail napkins decorated with snowmen.
   We also go to craft stores where we purchase inexpensive supplies that tie in with our theme. For our snowman theme, we might buy Styrofoam balls that we can use to create our own snowmen in various sizes. We might even create a whole family of snowmen along with a faux landscape as our table centerpiece.
Setting the Table
   When the time comes to set the table, I let the kids take over. They can get as creative as they like, setting up all our little themed treasures. Best of all, our guests love seeing our kids' creativity at work.
Don't Cook!
   There is one rule in my house when we are entertaining: I don't cook while there are guests in my home! I plan our meals around that simple principle. I cook everything for our holiday meal during the week before the holiday, then simply reheat that day. This allows me to focus on enjoying the holiday with my family rather than stressing out about the food.
Be Organized
   Meal planning is an important organization trick that many moms use all through the year, but it is especially critical during the holidays. I find that it's easiest to stay on top of everything when it is all in one place, whether it's a binder or a recipe box.  If you divide everything up into sections, such as appetizers, entrees, sides, and desserts, and keep all of the holiday menu plans in one place, it is simple to find and maintain year after year. All my holiday recipes are stored in a folio and I am constantly on the lookout for new ones. This makes it so easy to plan the holiday meal.
Enlist the Kids
   In most cases the meal prep goes more smoothly if the younger kids can be kept occupied with other activities. Older children, on the other hand, can be a huge help. Think of them for jobs like washing and chopping vegetables, preparing basics like rice or potatoes, and, of course, every kid's favorite kitchen task: baking cookies. You will appreciate the extra hands, and best of all, the kids will feel a sense of pride and accomplishment at helping to create something delicious.
   Even though the holidays can be chaotic when you are a mom to young children, I think we can make it easier on ourselves by embracing the kids' unique strengths and putting them to work. Look at the holidays as an opportunity to be creative with your kids. It will be more fun for everyone, including you — and when mom is happy, everyone is happy!