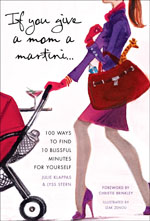 It's one of the easiest truths to forget: we are better mothers when we take care of ourselves. Just in time for Mother's Day, Julie Klappas and Lyss Stern, two New York City moms, have written a new book to help us remember. In If You Give a Mom a Martini … 100 Ways to Find 10 Blissful Minutes for Yourself (Random House $16.95), they present a collection of ways that their stressed-out counterparts (including celebrity moms) find and take time for themselves. Here are some ideas from moms whose names you might recognize.

Christie Brinkley (mother of 3, model):
   The moment I heard the title of this book, I instantly laughed. After all, I think every mom deserves a "time out" as often as she can get one!
   I always knew I wanted to be a mom. And everything I do is out of a desire to be a better one for my kids. That means not just taking care of my family, but also trying to help take care of the world we live in — so that someday our children will be able to share this beautiful world with their children.
   There is something I have always been sure of, and that is the power of a mother's love! We would move mountains for our kids. But we also get so busy taking care of everyone else that we always put ourselves last on the list. And that's just not OK!
Kelly Ripa (mother of 3, co-host, 'Regis and Kelly'):
   For a great ten-minute break, I love to get in the kitchen and whip up a really complicated recipe from
Mastering the Art of French Cooking
. Not really.
   Actually, my not-so-secret escape is to watch a few minutes of my idol Judge Judy's TV show. She is so honest and quick and smart. You know how in life you just wish there were people who had all the answers? She does — and she cuts through all the nonsense. Although ten minutes is not long enough for an entire episode, it'll probably get me through one juicy case. That's OK. I'll take what I can get.
Melissa Joan Hart (mother of 2 and actor, 'Clarissa Explains It All' and 'Sabrina the Teenage Witch'):
   The best thing I do for myself when I've got a few minutes to spare is fix up my toenails — just a little clip, clean, and polish. While they dry, I do a few stomach crunches. So simple, but the result makes me feel like I took care of myself and accomplished something!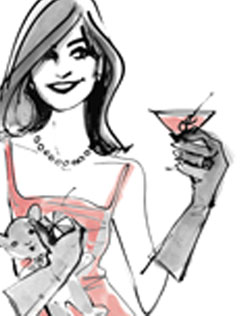 Jill Hennessy (mother of 2 and actor, 'Sing Out, Sister'):
   I like to set myself up with a great cup of coffee and some Angelica Cookies (but any cookie would do). I find a quiet place alone with my six-string acoustic guitar and sing some of my favorite songs at the top of my lungs. It's a great way to center myself and get back to sanity — at least a certain level of sanity.
Cynthia Rowley (mother of 2 and clothing designer):
   There's so much disorganization in our house, every time I find myself with a few spare minutes, I pick an area and try to make a dent. Someday my spice rack will be alphabetized and my dinner napkins will be perfectly pressed, starched, and color-coded — but until then, I'm psyched to get through the magazine rack and everything with freezer burn. If I just had a free week or two, I'm sure I could make some headway in my closet.
Reprinted from 'If You Give a Mom a Martini…' by Julie Klappas and Lyss Stern.  Copyright © 2009.  Published by Clarkson Potter/Publishers, a division of Random House, Inc.
(Photo credit: Tracy Toler)