As a New York City parent, surely you've been jumping in and out of taxis for years. By now you know where and how to snag a coveted ride even during a rainy rush-hour (an impressive accomplishment considering that approximately 240 million people hail cabs each year in this busy city). But with a child in tow, that quick and convenient ride to midtown can pose a major safety hazard. USA Today recently reported that in New York City over 2,600 children were injured in the 17,000 taxi-related accidents in 2000.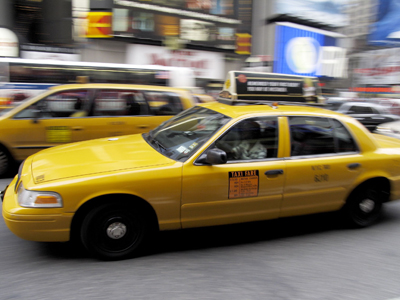 Betsy*'s true story is typical of how this happens. Betsy and her one-year-old daughter, Angel*, landed at the airport right on time for their long-awaited visit with Betsy's sister. With one hand juggling her bags and the other hand on Angel's stroller, Betsy quickly hurried to the taxi stand to grab a ride to her sister's apartment.

In the usual airport rush, they were encouraged to move along quickly. Betsy collapsed the stroller, and the taxi driver placed it and the bags in the trunk. Betsy jumped in the back seat of the cab with Angel, and they were off. About 200 yards outside the airport, Betsy realized that the seat belt connector had been pushed behind the seat, so she was unable to fasten it. That left both Angel and Betsy without restraining devices. Twice Betsy asked the driver, who was driving recklessly, to slow down.

Aggravated, the driver jammed on the brakes too close to the traffic ahead. Betsy and Angel crashed into the metal partition that divided the front and back of the taxi. Angel's head hit the small protruding drawer that is intended for passing money from passengers to the driver. Angel spent 10 days in the hospital and was released in guarded condition.

Because of the high cost of Angel's medical bills and the uncertainty of her future disability, a lawsuit was filed against the taxicab company. To prepare for trial, the lawyers subpoenaed records of complaints regarding unavailable seat belts, and were surprised to find that the city's taxi commissioner had received over 30 complaints of back seats with no usable seat belts. The company maintained that the seat belts were provided, but passengers kept pushing them down behind the seat.

The lawyers also uncovered a memo from the company's vice president in charge of accident investigation, advising that the company should provide car seats for children. This advice had gone unheeded. Because of the mounting information obtained through the discovery period of the lawsuit, the case was settled out of court to the satisfaction of Betsy.

Betsy's tragic cab ride is not an anomaly. Angel was just one of thousands of children injured each year in city taxi accidents. The root of the problem lies in the fact that taxis are exempt from the requirement to have restraint devices and car seats for children.

This is why parents with small children must be proactive in preventing injuries while riding in city cabs:

1. ALWAYS USE A CAR SEAT
Holding a child in your arms in the back seat of a taxi is extremely dangerous, yet lugging around your own car seat is inconvenient and impractical — until now. Triple Play Products makes a three-way safety seat with FCC certification. It functions as a baby stroller and collapses to become a car seat for air or car travel. Other manufacturers also make similar products, which can be found at http://brands.babycatalog.com. Booster seat-age kids (approximately 4-7 years and 40-80 pounds) in upper Manhattan were given a "boost" when Morgan Stanley Children's Hospital of New York-Presbyterian sponsored a Cab Health Fair in April 2005, where they gave away 300 booster car seats to livery cab drivers in the Washington Heights, Inwood and Harlem neighborhoods.

2. PAY FOR WAIT TIME
It takes time to properly install a car seat and safely secure a child in it. Some taxi drivers become aggravated by this "downtime", for which they are not paid. In fact, some drivers will pass you right by if you're standing at the curb with a car seat in hand. If you're lucky enough to get a cabbie to stop, immediately assure him or her that you're willing to pay for the wait time in order to properly secure your child's car seat.

3. PRACTICE, PRACTICE, PRACTICE
While you may be experienced at using the car seat in your automobile, using it in another vehicle may present a bit of a challenge at first. Practice installing the car seat in a family member's car or a neighbor's car, so that you will be aware of the problems you may experience in a taxi.

4. DO NOT GET IN A TAXI WITHOUT SEAT BELTS
Many taxicabs don't have seat belts available. In fact, one driver explained that because passengers complained of the protruding ends of the seat belts, "as a favor" the drivers turn them around and push them back into the seats so that passengers can ride more comfortably. Unfortunately, it's true that most people do not wear seat belts, even when provided. In 2001, the City of New York commissioned a study of taxis and taxi accidents in New York between 1990 and 1999. The study, conducted by Schaller Consulting, found that less than 17 percent of riders used available seat belts. Do not get into a vehicle until you're sure that you can see both ends of the seat belts. Once in the cab, always fasten your and your child's belt before the taxi moves.

5. BE AWARE OF PROTRUDING AND SHARP EDGES IN THE TAXICAB
A Schaller Consulting study of taxi and livery crashes in New York City found that taxi passengers are three times more likely to sustain relatively serious injuries than passengers in other vehicles. This high injury rate may be linked to the presence of partitions in most cabs, which create a hard surface in an otherwise cushioned environment. To reduce the risk of colliding with one of these hard surfaces, place yourself and your child in a position so that, in a forward motion accident, neither of you will strike these protrusions.

6. COMPLAIN OF DRIVER'S SPEED OR RECKLESS DRIVING.
If the driver of your taxi is speeding or driving recklessly, speak up. Insist that he or she drive carefully. If this doesn't work, apply some pressure by using your leverage as a paying customer. Simply say, "I'm not going to give you a tip if you don't slow down." These simple but powerful words can often quickly correct dangerous driving.

7. TAKE MASS TRANSIT IF YOU CAN
Traveling by cab in New York City with a young child requires a high degree of vigilance: infants need car seats, toddlers and young children need working seatbelts, and they all need to be positioned away from sharp, protruding objects. When it is impossible or impractical to put all these safety elements in place, consider taking mass transit where most often your child can remain undisturbed in his or her stroller.

*Names changed to protect privacy

DON KEENAN, the founder of Keenan's Kids Foundation (www.keenanskidsfoundation.com), has recently published a book on kids' safety called '365 Ways to Keep Kids Safe', which is available at: www.365waystokeepkidssafe.com.

CHILDREN'S HOSPITAL SPEARHEADS KIDS-IN-CABS AWARENESS
Legislation enacted in March 2005 mandates that all children under age 7 or less than 80 pounds be properly restrained in private cars. For older kids (approximately 4-7 years and 40-80 pounds), that means using booster car seats.
Since the legislation passed, Dr. Patricia Hametz, a pediatrician and assistant clinical professor of pediatrics at Columbia University, who is the director of the Injury and Violence Prevention Center at Morgan Stanley Children's Hospital of New York-Presbyterian, has been spearheading an effort to raise public awareness about child passenger safety. That effort began in April 2005 with a Cab Health Fair at the hospital.
"Our goal was to educate taxicab drivers about the importance of proper child restraints," she says. "We gave away 300 booster seats, and instructed the drivers about how to use them." Since then, there has been follow-up to monitor the availability of booster seats in livery cabs, which service northern Manhattan.
In August, the hospital sponsored a second health fair, continuing their efforts to educate the public about booster seats and to teach correct usage.

— Susan Hodara