Welcome to
MomBiz,
our newest column. Each month, we'll feature a highly successful entrepreneurial mom who realized that following her passion was the key to finding balance in her life. Whether you've always wanted to open your own business, recently left the corporate world, or simply want to spend more time with your children, MomBiz will inspire you on your journey.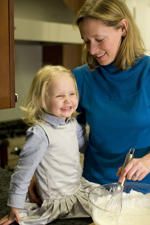 In 2003, Rachel Thebault was hosting a New Year's Eve party. An investment banker with no formal training in the culinary arts, Rachel nevertheless decided to try a recipe for mint crunch truffles. The truffles were such a hit that her friends insisted she make them for their weddings.  Read on to find out how Rachel turned her passion for sweets into Tribeca Treats. 

Quick stats:
   Married for six years, Rachel has two daughters: Marin, 3, and Sage, 3 months.

How did Tribeca Treats start?
   "I was an investment banker for seven years and really liked it, but it got to the point where although I was spending fewer hours in the office, I had less time for myself because I was traveling a lot. I hadn't been planning a family at that point, but I realized that I couldn't have this kind of career and the life that I wanted. I had an 'ah-ha' moment and started to think, 'Is this something I want to do long-term?'
   I had been making chocolates for friends' weddings and parties as a 'money-making hobby.' That's all it was; I didn't run it like a business — I had them pay me what they felt was right.  So I decided to go to culinary school, which had always been a passion of mine, and pursue a career in pastry."
   "I started a website and I had some interest, so I decided I would put some money into this direction. I rented a commercial kitchen space that I shared with Elisa Strauss of Confetti Cakes. I was doing chocolates, cookies, and cakes, all by custom order, but people were asking about party supplies, and orders were coming in faster than I could deliver. I started to visualize a storefront in my mind — a one-stop shop for gift giving and entertaining. I signed a lease on the store, and in 2007, we officially opened our doors."
You were unsure if you would ultimately open a storefront, so did you take baby steps?
   "Yes, I took everything slowly and it's something I would recommend for someone who wants to start a business but isn't completely sure. When I was in investment banking, I specifically worked with retail and restaurant companies so I had firsthand access to CEOs and I was able to talk to them about how they grew their businesses. I started in my home kitchen, then rented a kitchen on a month-to-month basis, and finally got to a point when I signed a 10-year lease on my own place. Every time I take another step, I think, 'There's no turning back now!' But it's exciting as well."
What do you wish you would have known looking back?
   "I wish I would have taken more time to learn about managing a large-scale production. It's really easy when you're one person and you're controlling the flow of business, but when you have a retail store, you open your doors to the public and you can't just say, 'We're too busy.'"
What was the biggest key to your success?
   "My ability to multitask. If I'm not doing 20 different things in one day, it's a slow day."  
What is one piece of advice you have for someone who wants to open a culinary business?
   "Take it slowly and really hone in on what your product is going to be before you put yourself out there. It's very easy to make the perfect chocolate cake once for your family, but when you have to make 20 in one week, it becomes much harder to control the quality. Also, if you're really honest with yourself about what you're good at and what you're not good it, you can create a business that plays on your strengths and then perhaps bring in a partner who fills your weaknesses."
How do you find work/life balance?
   "I think of my business as a third child: in the beginning stages it required a lot of my hands-on attention, and then as it got older, I was able to leave it in the hands of other people but I still had to check in on it. Being a mom and being an entrepreneur are both 24/7 jobs, so the ability to prioritize is key."
What's in the future?
   "I'm writing a cookbook that Random House is publishing, and once that's done, I'm going to look at opening more stores in other cities."
   For more information about Rachel Thebault and Tribeca Treats, visit
www.tribecatreats.com
.