Innovative technology, including iPad apps and adaptable motorized wheelchairs, is revolutionizing the way many children with special needs communicate and experience the world.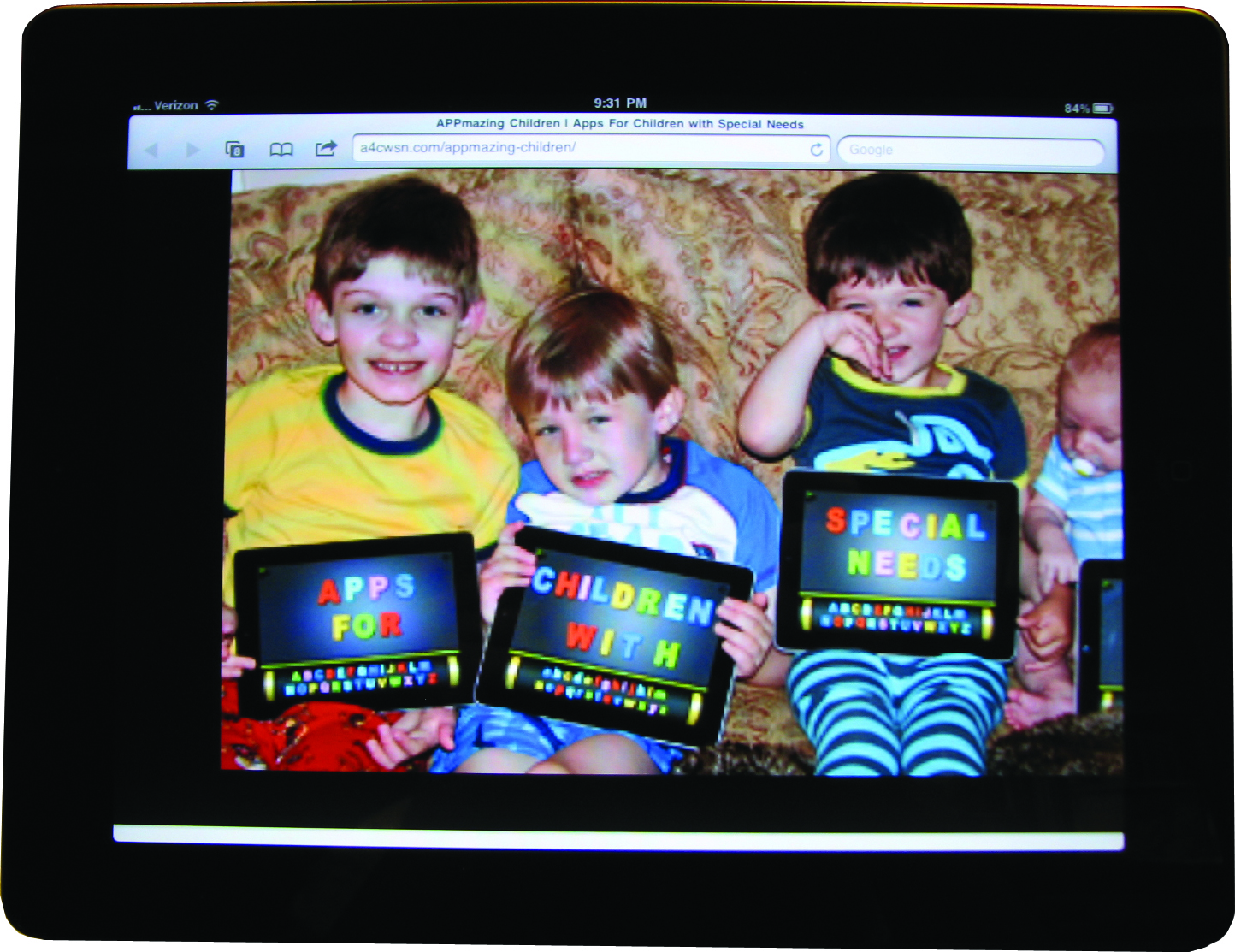 Evan Tedesco, age 6, is a high-functioning child with autism. Processing sensory stimuli can be difficult for him. It's hard for him to deal with bright lights, loud places, and new environments as well as making unexpected or unplanned moves.
At the recommendation of a therapist, his parents, Dan and Carey Tedesco, began using pictures to help him understand his environment, stay on task, make choices, and identify his feelings. The Fairfield County couple cut out hundreds of photos and laminated them in notebooks they always carried. Although the notebooks worked, they could be bulky, difficult to keep organized, and were stigmatizing.
Then, one night in 2008, Carey looked at her iPhone, which was sitting next to Evan's picture notebook, and asked her husband whether he thought it would be possible to make a picture-prompting app.
By May 2009, the first version of iPrompts, which allowed users to create and present three different types of picture-based prompts including schedules, timers, and choices between objects, was released, as the first special needs app on iTunes.
Special Technology Now Ubiquito

u

s
Now, using technology to enhance the lives of children with cognitive and physical disabilities is commonplace, says Julie Knitter, the director of occupational therapy at Blythedale Children's Hospital in Westchester County. "The increase in teacher and parent familiarity and skill with computers and related technologies appears to be increasing dramatically," Knitter says. "Some of the biggest changes for children with learning disabilities and other special needs have come as result of mainstream technology usage."
In some instances, teachers' regular technology use like posting homework assignments and review sheets on the web can help students with learning disabilities or those who may be unable to take notes because of physical disabilities. Electronic reading options also allow children to make adjustments for visual preferences such as font style and size to make it easier for the child to read. Electronic note-taking and highlighting can help, too.
But assistive technology isn't limited to common computer applications. Visual eye-gaze technology helps those who are unable to speak communicate by staring at letters on a screen to spell words. Those who can't spell can gaze at images. (See www.nymetroparents.com/eyegaze for more info.) Motorized wheelchairs allow those who are unable to walk to move more quickly and easily than their manual counterparts. Apps for iPad and iPhone platforms are also being used to help those with various disabilities.
Improving Quality of Life
"The outcomes after technology is implemented can be very different," says occupational therapist Eddy Ehrlich, a rehabilitation technologist at Rockland County's Helen Hayes Hospital's Center for Rehabilitation Technology. "But, for some kids, it's the difference between can and cannot. It's whether they can or cannot communicate or be mobile or be independent."
The occupational therapists at Helen Hayes Hospital use a team approach by inviting parents, teachers, and others who work with the child as well as the child to weigh in on which adaptive technologies work best.
"If a child has the motivation and cognition, there's no reason that we can't find the technology to improve the child's quality of life," Ehrlich indicates. "To take a child who cannot do something and make him someone who can do it—that's thrilling.
This belief that the child's potential is limitless defines how the team tests and implements technology. After everyone weighs in and the right technology is chosen, a point person who sees the child regularly helps the child learn to use the technology. This person relays information about the child's performance to other members of the care team.
"We're not there every day, but the wonderful thing is that once the child understands the basics of the technology, he or she is often able to manipulate it in ways that we never imagined," Ehrlich says. "If they don't get the right technology, though, it can be incredibly frustrating for everyone. We also have to keep expectations realistic and, if the student exceeds them, we adjust our focus, give additional recommendations and support."
The therapists also consider how the child's needs will change in the near future. For example, children who use motorized wheelchairs can't get a new one every six months. Instead, they recommend chairs that can extend and grow with the child. Teams also consider the technology available now, and which technologies will be available in the near future. When possible, they try to use mainstream technologies such as iPads, tablets, and smart phones to assist a child which, as the Tedescos realized, are less likely to alienate the child. Many children, Ehrlich says, see being able to use an iPhone in class as "cool."
So Many Apps, So Little Time...
Wondering which apps are worthwhile for your family? We've got it covered! (And get discounted iPads, too.)