HOW TO HAVE A HAPPY - AND SAFE - HALLOWEEN
Related:
halloween
,
safety
,
costumes
,
dangers
,
tips
,
trick or treat
,
halloween night
,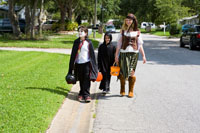 Halloween may be scary, but it doesn't have to be dangerous. Did you know that children are more than twice as likely to be hit by a car on Halloween than on any other night of the year? And that falls and burns are also a common cause of injuries among children?
It is important that parents become educated about the potential dangers surrounding the celebration, and take the necessary precautions to keep children safe. Here are some ways to help you avoid any accidents - while still having a fun and memorable night with your kids.

Five Items Every Mother Should Bring Along on Halloween Night
1. A fully charged cell phone pre-programmed with numbers for doctors, family members, and other emergency contacts.
2. Reflective tape to decorate costumes and sacks to increase children's visibility to drivers. Reflective tape may be purchased at hardware, bicycle, or sporting goods stores.
3. Flashlights and/or glow sticks to help children and parents easily see and be seen. Remember, do not let children under age 12 go trick-or-treating or cross the street without the supervision of an adult. Accompany younger children to the door of every home they visit.
4. Bandages and antiseptic wipes, something a prepared mom always needs even beyond Halloween, to take care of cuts and bruises if a child falls. Make sure to cover wounds to prevent contact with germs and possible infection.
5. Bottled water and healthy snacks, like raisins or Cheerios, so kids don't get hungry. You don't want children munching on Halloween candy before there is a chance for you to inspect the wrappers.
Six Tips to Avoid the Hidden Dangers of Your Child's Costume
1. Consider makeup (but make sure it's nontoxic) instead of a mask, which can obstruct children's vision or restrict breathing. If they do wear a mask, make sure they can see and breathe easily.
2. Make sure your child's entire costume (including beards, masks, and wigs) is clearly marked as flame resistant, or look for flame resistant fabrics such as nylon or polyester. Avoid costumes made of flimsy materials and outfits with big, baggy sleeves or billowing or long, trailing features to minimize the risk of contact with candles or other sources of ignition.
3. Choose costumes that are light-colored and more visible to motorists. Remember to use reflective tape on costumes and sacks so children will be clearly seen. Also equip each child with a flashlight or glow stick.
4. If your child's costume has accessories, make sure they are soft and flexible to avoid possible injury.
5. Hem the bottom of your child's costume to make sure it is not dragging on the ground. Children should wear well-fitting, sturdy shoes, too. This will help prevent trips and falls.
6. Illuminate jack-o-lanterns with flashlights or glow sticks. Avoid candles as they can pose a danger for trick-or-treaters who may come in contact with the open flames and ignite their costumes.
DEBRA HOLTZMAN, J.D., M.A., has a Master's degree in occupational health and safety and is an attorney. She has been featured on NBC's Today Show, MSNBC, WABC, and Discovery Health Channel. Her newest book is The Safe Baby: A Do-it-Yourself Guide to Home Safety and Healthy Living (Sentient Publications, June 2009). For more information: www.thesafetyexpert.com.
---
Get Your FREE Indoor Activity eGuide!
---
More Safety & First Aid Articles
Fire Prevention Week Promotes Working Smoke Alarms
Ask the Expert: What Should I Know About Sudden Cardiac Arrest?
Ask the Expert: What Should I Know About CPR and CPR Training?
Ask the Expert: What are the Booster Seat Requirements for Kids?
Ask the Expert: At What Age Can Children Legally Sit in the Front Seat?