Having a party for kids is fun, but one of the biggest challenges is keeping them busy. You can keep your young partygoers happy with a variety of activities, crafts and games. These ideas can also be used to keep kids busy at family gatherings or holiday parties with both kids and adults.
Arrival
   The perfect time for an activity is when the guests first arrive, especially if there are going to be lots of people who don't know one another. This is also great for the adult helpers so they can learn all the kids' names.
   You can have kids decorate a nametag or party hat after you take their jackets and presents. Another idea is to have each guest sign and draw a picture on a large birthday card, which can be made from colorful poster board.
Activity/Craft Centers
   You can have as many or as few of these as you have room for. The idea is that the centers be available for kids to use at any time during the party. The centers can offer crafts, coloring, puzzles, or toys like building blocks or dollhouses that the kids can play with on their own or with minimal adult guidance.
   Crafts, which can also serve as goodie bag items, should be easy for all your guests to do on their own. It is a good idea to avoid crafts that require a lot of gluing, which is messy and frustrating as you wait for the glue to dry. If you're going to be using markers or paint, offer your guests the washable varieties so clothes don't get stained.
   Crafts can include sand art, spin art, pipe cleaners, beads and cord for necklaces, paper airplanes or dolls, doorknob hangers, and decorating picture frames, goodie bags, T-shirts or pillowcases.
   Another popular activity for kids is face painting. You can buy books that come with face painting kits that show you how to draw simple animals. If you don't feel comfortable doing the face painting, you can call on the artistic talents of another parent or a high school art student.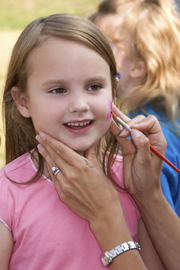 Games
   There is a wide range of games you can play, inside or outside, that can be modified to suit the age level of your guests or the party theme. Some based on TV shows or movies often have theme-related games you can buy.
   If your party is indoors, the old favorites include pin-the-tail-on-the-donkey (or, depending on the theme of your party, pin-the-parrot-on-the-pirate's-shoulder), scavenger hunts, Twenty Questions, bean bag toss, ring toss, Bingo, Duck Duck Goose, guessing games and Simon Says.
   If you're lucky enough to be able to have your party outside, you have even more choices. You can use a kiddie pool for fishing games, a coin toss (try to get the coins into the floating pie tins) or a duck pond. You can play musical chairs, set up an obstacle course, hold relay races, bang a piñata, throw water balloons, or play Tug o' War.
   For each game, guests get tickets that can be redeemed for prizes at the end of the party. Every kid gets one ticket for participating in the game; the winner gets three tickets, second place gets two, and third place gets one. You can make the tickets on your computer or purchase them at a party store.
Prizes
   Prizes for games can be purchased at dollar stores or party stores, or from catalogs like Oriental Trading Company. The prizes offered will depend on the ages of your guests and how the kids will be winning them. The prizes for games should be in addition to a goodie bag.
   For ticket redemption you can use items like plastic bracelets or cars or pieces of candy for one ticket, small dolls or beanbag animals for five tickets, and so on. Make sure you have enough prizes for the number of tickets you'll be giving out. Any prizes not chosen can be raffled off or saved for the next party.
Nancy A. Cavanaugh is a freelance writer, website designer and editor. Her website, www.holidaycrafts4kids.com, is full of inexpensive holiday crafts and activities for kids ages 3-7.