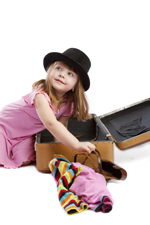 Every parent knows there's a buzz in the air before a child heads off to camp!  While the kids may be wondering what they will do and whom they will meet, parents are left to wonder what they will wear and if they will bathe.  Here are some tips and suggestions — from the toes on up — for how to pack light.

  Footwear is important for children at camp, especially when they are hiking, spelunking, running, and heading to the beach! Consider packing boots, tennis shoes, sandals, lots of socks—and dress shoes, if the camp requires them.  And don't forget to break in shoes and boots before camp begins.
  Headgear protects a camper from the sun and also bugs.  Pack scarves, bandannas, a baseball cap or sunhat, plus eyeglasses if needed, sunglasses, and swimming goggles.
  Clothing is a necessary component of camp life — just don't expect any of it to return home clean!  Include T-shirts, a swimsuit, and shorts for hot days; a jacket, sweatshirt, and jeans for cool or cold days; and a raincoat or poncho for rainy days.  Long pants will protect a camper from poison ivy, bugs, and thorns during hikes.  Check with the camp to see if dress clothes are required.
  Bed and bath can't be ignored.  Your child should bring towels, blanket, pillow, pillowcases, sheets, sleeping bag, laundry bag, and mattress pad.
 Bathroom kits are essential, even though there is no guarantee they will get used as often as parents hope. Provide campers with a brush and comb, shampoo, soap and soap container, toothbrush and holder, toothpaste, deodorant, insect repellent, feminine products, sun block, shaving gear, and lip balm with sun block in it.
  Gear can keep a child entertained during those rainy or slow days.  Include books and magazines, flashlights and batteries, Frisbees or other toys, a water bottle, and writing materials.  When considering electronics, musical instruments, and other special gear, check with the camp about policies. 
   Don't forget to check with the camp director and review the camp packing list to see what items are recommended or required. You'll find a complete packing list at www.CampParents.org/travellight.php.