Whether you're a new mom or have some experience, exactly what belongs in a diaper bag is not always obvious. The following, excerpted from
The Baby Gizmo Buying Guide
by Heather Maclean with Hollie Schultz (Thomas Nelson, $16.99), should get you through a trip to the playground or a more ambitious adventure.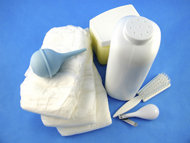 We're not saying we're experts, but we have now spent 3,246 consecutive days with a packed diaper bag. We've learned a thing or two about what's necessary and what just takes up space. Below you'll find the ultimate list that will cover you in almost any situation. Want to travel lighter? Remove items at will.
Diapering and Clothing

Six to eight diapers, depending on how long you'll be out; a good rule of thumb is one diaper for every two hours.
Travel-size wipes container
Changing pad
Diaper rash ointment
Small receiving blanket
Seasonal change of clothing; the smallest, ugliest emergency outfit you have. Pack a onesie, not overalls.
Extra pair of socks
Plastic bag for soiled clothing and diaper disposal; we love the ones that come on a roll, ready to use.
Hat appropriate for shade or warmth.
Feeding

Bottles and formula or baby food and plastic spoons
Bib
Burp cloth
Bottle of spring/filtered water (for you, for cleanups, for baby…)
Small can of formula or six packets of premeasured formula
Emergency snacks for you, such as a couple of granola bars
Toys and Soothing Items

Two pacifiers
Small toy, rattle, or teether
Safety and Emergencies

Small, portable first aid kit with minimum three to five adhesive bandages, gauze, and antibiotic ointment
Two to three safety pins
Nasal aspirator
Travel-size hand sanitizer
Cell phone, charged up
Tissues
Small tube of sun block
Small tube of moisturizing ointment (for emergency chapping)
Infant/toddler fever reducer/pain reliever
$20 bill and some quarters
Heather Maclean is the author of
The Baby Gizmo Buying Guide
. Heather leads the pack of the new generation of what she calls "SmartMoms" — women who are taking an active role in researching the quality and safety of products for baby. Co-founder and editor of www.babygizmo.com, Heather is the proud mother of three children, ages 2, 6 and 9. Hollie Schultz knows firsthand the ups and downs of trying to find the perfect baby gear purchase, as she just had her second baby. Hollie is co-founder of BabyGizmo.com and a certified CPS (Child Passenger Safety) technician.