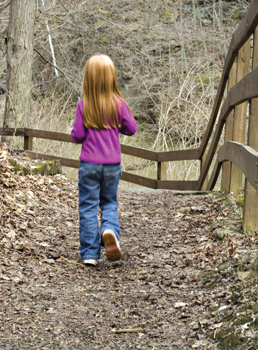 "If only I could bubble-wrap my child!" It's a nice thought, especially for parents of toddlers who bump and run all day long, or for those with older daredevils on their hands. And how about our shy guys and girls, the ones we as parents just want to wrap up in protective hugs, to reassure often? Deep down we all know that the only way our kids will grow into their own is by exploring the world, but that doesn't mean doing so is always easy. How - and when, and how much - should we let go?
"If you are brave enough to know your children for who they are as individuals, then you'll know what situations you can trust them with and which situations you should be a little more careful entrusting them with," advises Sue Lee, principal of CCB School of Douglaston in Queens. "Letting your loved ones go is probably one of the hardest things in the world to accomplish," she adds.
To help you along the way, we asked local experts:
How can I avoid being overprotective of my child?
"Overprotective mothers or fathers don't allow their children to suffer any frustration, and thus tend to protect them against any perceived 'threat,' trusting little in their possibilities. Beware! This approach ultimately harms the children, making them dependent, with little tolerance for frustration. Overprotective parents' children often have trouble relating to others and can be insensitive. To all parents, I would say: Remember that your child will make errors. Overprotective parents generally believe their children cannot make mistakes. Everyone makes mistakes-even more, making mistakes is how we learn and develop as individuals."
-Myriam Signorini, program director, My Little World Daycare, Inc., Port Washington
"To protect or not to protect...that is the question! The perennial unmarked boundary of how much is too much (or too little). Before we are parents, we often judge and scoff at other parents for what we see as over-parenting or being overprotective. That soon changes when we become parents ourselves.
Given that, there are guidelines that facilitate healthy separation and individuation. One of the key 'red flags' is awareness of a child's readiness and developmental appropriateness. For example, the first separation is when a child walks and begins to say 'no.' Remember that experimental testing is healthy for a child, so parents should respond with appropriate limits and boundaries. An encouragement of 'You can do it' needs to be couched with a gentle reminder, 'If you need me, I am here to help.' It is important to reward a child's independent efforts with praise, not so much for the act or outcome, but for the effort and willingness and courage to do it alone.
Single or divorced parents, or parents who have experienced difficulty with their own parents, may find it more difficult to 'let go' because of this history. Cutting the cord is always difficult for the best of us, but if we remember that our child's mental health and future growth come first, it makes it easier to do what is so difficult-separate and respect our child's individual being."
-Doris M. Aptekar, Ph.D., LMHC, psychotherapist, school psychologist, certified teacher, serving Nassau, Suffolk, and Queens
"I have been running after-school programs for the past 16 years, with children of various ages. Sometimes it is difficult for mom or dad to let go and leave a child to be independent, depending on their age and separation experience.
For children 3-4 years old, we encourage the parent to try to separate after their child is comfortably situated in class. Coming late to class will hinder your child's comfort level, so try to be on time, for your child's sake. If you feel more comfortable staying in the classroom the first or second time, do so. You can sit away from the group within your child's sight. Make sure you are comfortable with the teacher's ability to interact and teach the children, and that you feel your child is in a safe environment. When you are satisfied with these important aspects, short-term exits may prove helpful in separating from your child. Always tell your child you will be right back. Going for coffee or getting something from the car are good excuses to leave briefly. Always keep your word and come back. You can lengthen the amount of time you are away as your child adjusts. Before you know it, it's drop-off time!"
-Lynne Gerald, president, What's Cooking?, Oyster Bay
Also see: More advice from New York metro area experts for overprotective parents
Our Ask the Experts section, for even more practical parenting advice