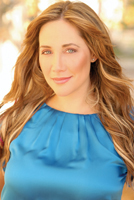 If you're like most women, you're constantly adjusting (and readjusting) your bra all day long. The straps fall down or the band rides up or perhaps your cups runneth over. You're not alone. A staggering 85 percent of women are wearing and buying the wrong bra size and you're probably one of them. "The wrong bra can cause back problems, muscle strain, skin irritation and affect your posture , the way your clothes fit and your confidence," says Jené Luciani, Fashion, Beauty, and Lifestyle expert and author of The Bra Book: The Fashion Formula to Finding the Perfect Bra, released this month. Struggling with poor self-esteem and insecurities about her irregular shaped breasts, it wasn't until she was well into adulthood that a doctor diagnosed Jené with Tubular Breast Syndrome, a defect that causes the abnormality. Here, Jené shares some of her best tips to help you find the right bra and to ahem, support you.
Pregnancy and Breastfeeding
"Any woman who has ever had children knows that your body completely changes. Since your breasts are such an integral part of your reproductive system, they're one of the first parts of the body to swell," says Jené, whose cups increased two sizes in the first trimester of her pregnancy. Instead of spending a lot of money on new bras, Jené recommends investing in a few, well made bras that you can rotate throughout your pregnancy. If you choose maternity bras which are made in fabrics that breathe well, make sure they have soft cups, wide straps, and light padding for tender and sore nipples. Jené also recommends Fashion Forms' Soft Back Bra Extenders if your bra fits well but the band is too tight.
After giving birth, many women find that their breasts have "deflated" or start to sag. "If you have a severe loss of volume, look for a really good push-up bra with underwire and padding. There are so many options on the market today that look and feel natural but aren't obtrusive and add that extra oomph that makes you feel good," she says. And if you're breastfeeding, wearing an ill-fitting bra can cause mastitis and plugged milked ducts, so Jené suggests avoiding underwire styles which can restrict milk ducts and instead, opt for a bra with wide straps and light padding in case of leakage.
What to Look For
The band of properly fitting bra should be snug and touch the bones on either side of your ribcage. The straps should be snug too, but shouldn't dig into your shoulders. The bridge in the middle of the bra should lie flat against your body and touch between your breasts. "You should be able to have the band on the second hook comfortably and be able to fit just two fingers underneath it," she says. If your breasts billow out of the cups, if the cups wrinkle, or if the band rides up or the straps slip, you're wearing the wrong size. You should get fitted by an expert every 6 months but measuring yourself and being educated before you go shopping is key. "Sales associates are not necessarily receiving the best training or using the right methods. Plus, every brand uses different fit models and each style is cut differently so be sure to try it on or make sure the online retailer has a good return policy," says Jené.
Inch by Inch - How to Measure
Use a sewing tape and measure around your ribcage just below your bust; round up to the nearest even number and add 2.
Measure the fullest part of your bust and subtract your band size from that number. The difference in inches is your cup size. For example, if your band measurement is a 32 and your bust a 33, you're most likely a 32A.
For more information about Jené Luciani and The Bra Book, visit www.jeneluciani.com.
A Woman's Must Haves Bras
Strapless
"Spa" T-Shirt and contour styles
"Specialty" plunge, racerback, convertible
Sports
Three "sexy" demi-cup, balconette, sheer or lacy styles