Ridgefield native, Anna Parille, authors a children's book, A New Home for the Honeypies, that features a fluffy puppy and his magical paw that helps kids see the brighter side to moving into a new home.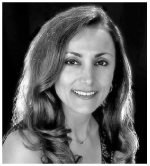 After running a nursery for more than 18 years, Ridgefield native Anna Parille, now a realtor, wrote and illustrated her first children's book, A New Home for the Honeypies, starring a fluffy puppy with a magical paw who shows kids the brighter side of moving into a new home.
Part of the Cuddle Up & Read series, the book follows the Honeypies on a journey from their old home to visiting open houses and finally settling into a home in a new town. Along the way, siblings David and Bluebelle learn about the different types of homes and, most importantly, about how change is not always bad.
Author Anna Parille's "book mobile," a 1967 antique European car, cruises around town as she drops by for book signings with Teddy in tow.
"It's really heartbreaking to see a child upset like that [when they have to move away from friends]," Parille says. "I saw children coming and going all the time, from different states and different countries. They all seem to have one thing in common: the anxiety and emotional discomfort of moving. And when I became a realtor, I saw the same thing. I asked myself, 'What can I do to help?'"
The result was Teddy and his magical paw, a winning combination that Parille also uses as a vehicle to teach children vocabulary about real estate throughout the story.
Get advice on moving from a psychatrist to a professional organizer to help your family and kids have a smooth transition.