The warmer springtime air beckons as the trees are budding and the ground is soggy with melted snow. But watch out for spring fever! Just as young minds are tempted to wander from school and homework, it's the time to buckle down, to prepare for the last months of school and the culmination of a year's worth of hard work.

   Although staying focused when the weather changes can be challenging, we have compiled these tips to help you keep your kids motivated and engaged.
Set realistic goals
   Don't let exams sneak up.  Help your kids plan out what they need to do to prepare. Set concrete goals together, and decide how much time they'll need to accomplish each task. To avoid becoming overwhelmed, break bigger assignments into smaller goals. Make sure to leave wiggle room in the event that kids need an extra break or more time to prepare.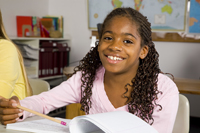 Create a "study zone"
   Create a place that's conducive to productive study and concentration. The area should be comfortable, quiet, void of distractions, and stocked with necessary supplies. Encourage your kids to put away cell phones and turn off their computer chatting programs. Designate a time period for homework, and try to have kids work at the same time each day. With these parameters in place, they'll be in the frame of mind to get down to business.   
Countdown: seeing your goals
   Hang up a wall calendar and have your kids circle important dates and deadlines. Also write in any scheduled activities, including social events, family trips and upcoming obligations. Sometimes what kids perceive as a lot of time is actually shorter than they think. As your kids reach their goals, encourage them to cross off the days. This way they'll have visual evidence of their accomplishments and their remaining responsibilities.
Break time
   Allow kids some down time. Help them learn how to let go of stress by doing things they enjoy. Let them decompress by playing with friends, watching a movie, or exercising. They'll come back from their break refreshed and ready to work.
Make a list of accomplishments
   Remind your kids about the goals they have succeeded in reaching, and create a list of the milestones that you are proud of them for. Reflect with them on how far they've come. Remember when they started the year and there was a subject area they were worried about or a particular math problem they couldn't figure out? Take some time to note the changes they've made, the hurdles they've overcome, and how much they've learned.
   By implementing these strategies, you can help your kids complete the last months of school on a successful note. Then, when that final bell rings and the summer months begin, they will be able to truly enjoy their break, free from academic cares, knowing they finished at their best.
ALEXANDRA MAYZLER is the founder and director of Thinking Caps Tutoring (TCT). In addition, she participates in teaching collaboratives and develops curricula for independent and public schools. She is the author of a soon-to-be published book for students on study skills.