Sure, we get healthy vitamin D from the sun, but too many rays can cause harm. Protect yourself in style this summer with our top picks, including the best sunscreen, sunglasses, and hats for fashionable moms.

Skin Deep
We've heard it all before: Apply sunscreen every day, and reapply, reapply, reapply! But what good is that advice if we don't actually follow it? Slather it on at least 15 minutes before going out, and remember to cover oft-missed ears, backs of hands, and tops of feet. Here are a few sunscreens to pick from, all with a broad spectrum of sun protection (UVA and UVB):
• Neutrogena's Ultra Sheer Dry-Touch Sunscreen in SPF 55 has a fresh scent and goes on cleanly without feeling greasy - and it's perfect for sensitive skin. A 3-oz. bottle is about $10; available at drugstores.
• Clinique's Sun SPF 50 Body Cream packs bonus antiaging ingredients and shields against environmental aggressors. A 5-oz. bottle is around $20; available at most department stores.
• For a fun, won't-fade option, try Zinka's Nosecoat (pictured). The zinc oxide formula completely blocks skin from absorbing the sun's rays - and the cool colors (think pink, green, yellow, or blue) appeal to the kids as well as the kid in you. About $6 for a .6-oz. tube; available at www.Zanka.com.
The Eyes Have It
And you thought shades were just a fab accessory. With the right protection (they should be at least 99 percent effective in blocking UVA and UVB rays), they can shield you from retina damage and even cataracts. Cathi Volante of Maui Jim notes that "by the time you are 50 years old, your eyes have been exposed to as many UV rays as are in a nuclear blast." Block them out in style: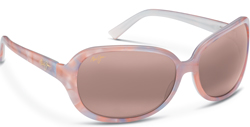 • Maui Jim's Rainbow Falls, handmade in Italy (so no two are the same) come in five fun colors including Cinnamon and Bubble Gum with HCL Bronze lenses, Dusty Rose with Neutral Grey lenses, and Abalone and White with Maui Rose lenses. Many can be fit with prescription lenses. Prices start at $299; available at Lenscrafters, Pearle Vision, City Sports, and www.MauiJim.com.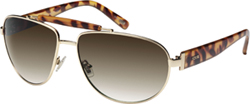 • Fossil's Portia Aviators, which add fun plastic detailing across the front to give a modern twist to the popular cockpit look, come in olive, orange, and tortoise shell. About $40; available at www.Fossil.com.
Hat Trick
The bigger the brim, the safer your skin - so think big to add more than a little mystery and plenty of protective shade. Or don a sporty cap as you head out the door for lighthearted face shielding. We love: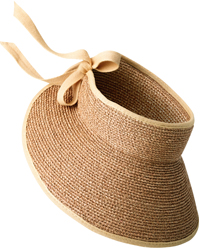 • The ultrawide-brimmed Mita Visor from Helen Kaminski (pictured), which shadows the face for ultimate protection, yet has an open top to allow your head to stay cool - and remain hat-head free! Handcrafted of Madagascar raffia, the hat's elastic inner band adjusts to your head. Bonus: Roll it, pack it, and it'll still look great. About $100; available at Saks Fifth Avenue.
• The customizable Ralph Lauren Chino Baseball Cap, with your fave colors, embroidered pony emblem and monogram. Let the kids build their own hats online and then go for a family outing in your not-quite-matching head-gear. $20 for kids' hats, $35 for adults'; available at www.RalphLauren.com.