Learning a second language at an early age can have many positive effects later in life. Read on for tips on how to bring up a bilingual child.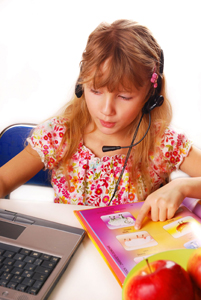 According to Julia Pimsleur Levine, creator of the Little Pim® foreign language immersion series, the recession has made parents realize that their children will be competing for jobs in a global economy. As a result, they're seeking foreign language instruction more now than ever before. "Knowing a second language used to be a 'nice to have,' and now it has become an essential skill," Pimsleur Levine says.
Take Manhattan mom Kim Hehir, who says that since working in the hospitality industry, she realizes that her pre-school age children will need to speak a second language when they start working. The nanny speaks Spanish to the children and Hehir also has them enrolled in a program to learn French. "They really liked it. And I thought: Why not have them learn another language now when they pick it up quicker?"
Starting early - particularly in the first year of a child's life - is the optimum time to learn. "Babies' brains have incredible plasticity when they're born, which allows them to recognize and reproduce any sound and any language in the world," Pimsleur Levine says. Yet that ability lessens each year, and at age 6 a sharp decrease occurs, making the process more challenging (though certainly still possible). Research has also shown that even children who learn a second language without actually becoming fluent show more cognitive gains. "The process of simply engaging with a second language works the frontal lobes of the brain, which handle the executive functions like memory, multitasking, and retention of vocabulary," says Pimsleur Levine.
Make It Fun
Creating a variety of learning experiences that are entertaining for your child can spell success. "Language is learned in lots of tiny bites," explains Dr. Barbara Zurer Pearson, author of Raising a Bilingual Child (Random House). Pearson, who has more than 20 years of research under her belt, says that large experiences like travel retreats - although important - are less effective. Classes, playgroups, story hours, houses of worship, and dual language schools are all great resources. "Seek out activities that take place in the second language as much as possible." There are also a wealth of products available - books, DVDs, audio CDs, and iPhone apps, as well as foreign language channels and online videos.
Finding everyday opportunities to incorporate the language helps with retention. "Creating a regular time and space is important," explains Pimsleur Levine. She suggests designating dinner time or road trips when your family only speaks the second language, and taking your child to a restaurant or a cultural festival so the language is integrated with the culture.
Keep It Exciting
Praising your children for their work and creating a sense of excitement will encourage them to continue. "It's not important enough for the parent to want their child to be bilingual; they have to figure out how to motivate the child to want it as well," explains Zurer Pearson. Particularly at age 4, children tend to rebel and refuse to speak the language and are embarrassed when their parents do. "View it as a very normal phase and push through it," says Pimsleur Levine, who suggests finding a tutor or another way for them to learn without you. "It's a lot of work to acquire another language, and if the child doesn't see it as fun and engaging, they're going to drop it as soon as they can."
Stay Positive
Raising a bilingual child can be challenging, but seeking the support of other families who are doing the same and focusing on the ultimate goal can make it easier, says Pimsleur Levine. "There will be times when it will feel like just one more thing you have to do. But keep in mind the tremendous benefits. Your child will definitely thank you for it later."