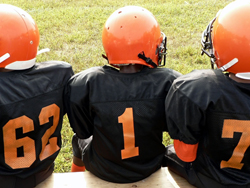 Watching your kids run out onto the playing field for the first time can be a nerve-wracking experience no matter what sport they're playing. But the anxiety that comes with allowing a young son or daughter to gear up and step onto the football field is enough to give the coolest of parents a panic attack. Nonetheless, generations of children have tugged at shirttails, pleading for the chance to engage in some sanctioned rough play, and many parents give in whether they are ready or not.
Football is an inherently aggressive sport, as anyone who has ever watched five minutes of a professional football game can attest. The concerns of many parents are only magnified by images of athletes being carted off the field on television every Sunday. Yet despite all of the tackling and pile ups, youth football is actually no more dangerous than most other sports, including the much-less-physical soccer.
According to statistics gathered by Pop Warner football, the well-known American youth football organization, organized football among ages 5-15 has 12 percent fewer injuries per capita than organized soccer in the same age range. And although these particular statistics can be disputed, the prevailing evidence suggests that the risk of injury for football is similar to that of other sports. Jordan Snider, director of operations for Future Stars, a specialty sports camp provider with locations in Westchester, Nassau, and Suffolk counties, points to the importance of ensuring a level of comfort in new players. "At the youth level," he says, "overcoming the fear of contact is paramount. Learning the correct way to block and tackle not only prevents injuries but is essential in establishing a confident young player."
One reason for the rather mild risk of serious injury in youth football is the extensive padding requirement. The amount of gear worn by youngsters would be enough to keep them safe in a Roman coliseum, let alone the local football field. Young players are covered from head to toe in gaudy padding and equipment, much of which is not even worn by the pros.
Snider warns that all the gear will take a little getting used to. "Children playing with football pads for the first time need to get comfortable with this," he says. "The helmet alone will feel awkward at first. Parents should consult with coaches and team trainers to make sure equipment fits snugly, yet comfortably."
Football coaches have a reputation for being fire breathers. As with any youth sport, parents should make efforts to vet their child's coaches before the season begins and to follow up as the year progresses. Though thorough background checks would probably be going too far, a frank conversation about the coach's instructional beliefs and goals is a sufficient barometer for most parents. Parents should feel free to watch practices and observe the interaction of coach and player in person. Better yet, parents should volunteer and become a part of their child's team. Even with minimal knowledge of the game, eager adults can still contribute.
Communicating with your kids about their readiness to participate in a sport where practices are many and games are few and far between is important, but perhaps even more important is your comfort level. Be honest with yourself regarding your child's participation. If even the thought of your son or daughter being tackled to the ground by their peers makes you nervous, it's probably better to sit this season out. If the sport is not going to be a healthy experience for you, then it probably won't be for your child either.
For families not too keen on allowing their children to engage in the more physical aspects of the game, there are still many ways to enjoy football. NFL Youth Football, the youth outreach arm of the professional league, offers kids the opportunity to participate in the Punt, Pass and Kick program as well as flag football leagues for girls and boys. NFL-sponsored flag football leagues are a fixture in the region, with locations in all five boroughs as well as in Long Island, Westchester, and Rockland.
If your child insists playing in the contact leagues, keep an open mind. The benefits of organized football are many. Football can aid in a child's maturation process by nurturing self-confidence and independence. Parents who refuse to let their child engage in gridiron should be prepared for their kids to pressure them for a long time. All of that shirttail tugging can become tiresome come high school. Just ask my mother.
Where the Action Is
Westchester
Rockland
Brooklyn
Queens
Nassau County, LI
Suffolk County, LI
•Future Stars Summer Camps, 564 Bedford Road, Armonk, NY 10504, 914-273-8500, www.fscamps.com. Caters to players ages 8-17 in a comprehensive mini-camp for all skill levels in the summer. Camps take place at Farmingdale State.
Manhattan
Fairfield County, CT