Margie La Bella, a Long Island-based music therapist, offers parents advice on how to write or adapt songs to help kids learn their letters, colors, and body parts as well as basic skills like eye contact and making transitions.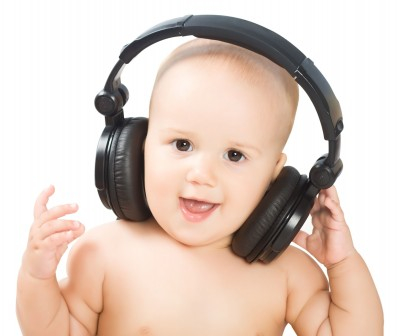 "Most songs on the radio are comprised of alternating verses and choruses. All the verses of a song are quite similar to each other but are different from the chorus. The chorus is usually the same each time it is heard. The bridge section usually comes near the end of the song and sounds notably different but returns to the chorus.
Back to traditional kids' songs, there are two main types:
1. Same-Same-Same-Different
One has three repetitious lines (either lyrically and/or melodically) and a final contrasting phrase that is the same from verse to verse.
For example:
The wheels on the bus go round and round
Round and round, round and round
The wheels on the bus go round and round
All through the town
Other examples include "Mary Had a Little Lamb," "This Little Light of Mine," "Kumbaya," and "London Bridges."
2. Same-Same-Different-Same
The other has two repetitious lines, a consistent third phrase, and a return to the first or repetitious line.
For example:
The farmer in the dell
The farmer in the dell
Hi-ho, the derry-o
The farmer in the dell
Other examples include "Old Mac Donald," "Oh My Darling,Clementine," and "Oh! Susanna."
How to adapt songs to teach your kids
The contrasting (different) line in both cases can consist of a general phrase that describes the purpose of the song or a commonality within all the verses.
Why does this matter to you? It's simply a framework in which to insert your lesson material/words/concept you wish to teach. You may never have contemplated the musical structure of Kumbaya, but that melody can help your kids do anything from wash behind their ears to improve their behavior.
There's a reason these songs have stood the test of time. I suspect these song formulas sit well with the human psyche with our need to push into what is new, but come home to what's familiar. Simply stick new words into familiar songs and SING to your children. They'll be all the better for it!"
Margie La Bella is a music therapist, special educator, and recording artist. Visit her website, musictherapytunes.com, to read more of her advice for parents, teachers, and therapists; watch educational videos; download music (including free mp3s); and see more than 150 lesson plans for musicians as well as non-musicians.
Also see: Will Singing to My Kids Make Them Smarter?