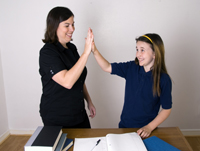 By December, most parents know if their kids are struggling in school. It is typically around this time that your child's teacher may encourage you to look for a tutor. But how do you find one?
   While a referral from another parent can be a good place to start, the key is to find a tutor who best addresses the learning styles and issues of your child. That educator may not necessarily be the most popular, most highly priced tutor that everybody else in your school community uses.
   Here are a few keys to finding the perfect tutor for your child:
• Make your child a part of the planning process. Before you begin the tutor search, sit down with your child, even if she is still in elementary school, and have a conversation about how a private tutor can help her become a better student. Together write down one or two simple objectives that she would like to achieve. Discuss these goals with the tutor you choose. Note: Be sure your child is comfortable working with a tutor at least one day a week (after school or on the weekends). Some children will resist extra instructional time or not have the energy for it, and you'll be wasting your time and money.
• Partner with your child's classroom teacher. If your child is having problems in school, find out as much information as possible before contacting tutors. Ask about his classroom behavior, work skills, comprehension of the material, participation in class, etc. What information can the teacher relay about your child's learning style that you can pass on to the tutor?
• Price is just one indicator of a tutor's competence. Private tutors, fresh out of college, will typically charge $25-$45 per hour. Master teachers with certification and five or more years of experience will charge from $75 to upwards of $250 an hour, depending on the subject taught and grade level. Consider your child's personality and learning problems, and also weigh your family's resources, deciding how much you feel comfortable spending each week on tutoring.
• If you find a tutor through a tutoring service, be sure that the company thoroughly screens the tutors it recommends. A responsible tutoring service will interview each applicant to get a sense of how he relates to pertinent questions about teaching methods and experience. The service should also check at least the tutor's references — at least two professional and one personal. The most responsible tutoring services will hire an independent agency to run a background check on the tutors to give parents an additional layer of assurance.
• Manage your expectations. If you feel after three or four lessons that the tutoring isn't helping your child, express your concerns. A good educator will listen and be open to your comments.  Be sure to listen carefully and objectively to the tutor's response as well. It's not fair to dismiss a tutor simply because your child's grade hasn't improved after a couple of lessons. It might take months to see improvement in your child's grades, but perhaps you'll see your child grow less anxious and more confident about his ability to learn the material.
• Don't hover in the room listening to every word of the lesson. Do remain in the house, nearby, especially during the first few lessons. You can monitor the instruction without being intrusive. A good tutor will welcome your interest. 
• Expect to receive some feedback from the tutor about your child's progress. The tutoring service should have the tutor provide a summary report of each lesson, which describes the material taught, progress made, and objectives yet to be met. Such a lesson report is an invaluable assessment tool for both the parent and the tutor.
MARIE RAMA is the director of improvA, an online tutor matching service based in Westchester that enables parents to search for, identify, hire, and pay highly qualified local tutors using the Internet, or to work with educational consultants to select the best tutors for the child. The company offers independent tutors a marketing, scheduling, billing, and communication package for developing and running a tutoring business.914-337-3871 or www.improvA.com.