An exhibit titled Into Me/Out of Me and encompassing artistic views of the concepts of passing into, through, and out of the human body, should naturally include the theme of childbirth.  The major show at P.S 1/MoMA through September 25, 2006, devotes two rooms to conception, birth and parenthood — and manages to turn the human baseline on its ear.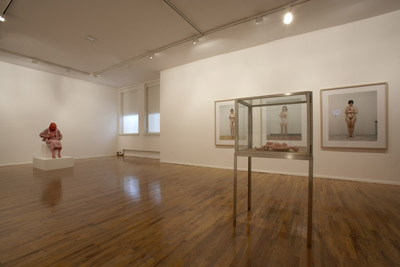 Keith Edmier has sculpted his mother, circa 1967, in resin and silicone; the artist is depicted inside the womb, posing the riddle: What is autobiographical?  Rineke Dijkstra's huge photos of naked mothers clutching their newborns lays the process bare; in one image, blood trickles from the navel down the mother's leg.

   Patty Chang's In Love (2001) explores the intimacy between parent and child via video.  Two parents and grown daughter appear to be kissing passionately; a closer look reveals they are passing a peeled onion by mouth.  Dry eyes turns to tears, signifying the journey from the wholesomeness of childhood to the letting-go that is the cycle of parenthood.

   The childbirth art and installations are just a small part of the three main areas of this exhibition — metabolism; sexuality and reproduction; violence.  Over 100 artists are represented, including Damien Hirst, Andy Warhol, Judy Chicago, Kiki Smith, and Louise Bourgeois.  It's an often startling, always thought-provoking show — but it's for adults only.  Most of the participating galleries allow entrance to ages 17 and up only, with parent/guardian.

   P.S. 1 Contemporary Art Center is at 22-25 Jackson Avenue, Long Island City, easily accessible by subway or car.  Go to www.ps1.org for show details, and directions.

Photo: Matthew Septimus