Nicki Francis, a Tribeca mother of two, started out making soaps and balms for friends, as Christmas gifts.  Her friends liked the products so much, they asked to buy more.  Three years later, her homespun hobby has become a business — Khushi — that allows her to stay home with her boys, Jackson, 19 months, and Jamie, 4.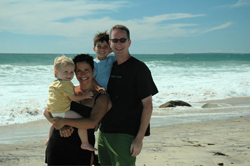 Nicki, with husband John, and children Jamie and Jackson

   Khushi, which means say "happiness" in Hindi, is rooted in the philosophy that "what goes on your body goes into your body – so keep it natural and pure!"

   By cutting out the middleman, Francis is able to keep prices low; for example, her lip balms, in yummy peppermint, grapefruit or lavender, are only $4 a tube. The most expensive item, rose hip oil face serum, is $20; she maintains the serum, with primrose oil and frankincense, is as effective as far pricier anti-aging products.  Francis blends products by hand, in small amounts, to keep them fresh; there is nothing artificial in the products, so there are no artificial preservatives.

   Although Francis did not start out making products for kids, she notes that her all-natural balms, oils and soaps are perfect for children, particularly those with sensitive skin.  She says her boys are a constant inspiration. She bathes them with the organic shower gels and stresses "no family should be without" her Healing Balm, which, she says, can also be used as a diaper cream, on dry spots (even dry lips), cuts and scraps, and on rashes. Some customers, says Francis, report the balm's healing powers for children's eczema. She also makes a skin elixir, which she used for the boys' cradle cap and on her stomach when she was pregnant and post-partum, to reduce stretch marks.

   Khushi also has a lavender spray, which can also be used to soothe the skin if you've had too much sun.  She also sprays minor cuts and scrapes with lavender before putting on a Band-aid.  There is also Peaceful Spray, a soothing blend of scents, which Francis sprays on her kids' sheets.  She confides, "I spray the room and/or them on an overactive day (or a tantrum)."  There is also a Khushi Yoga Mat Spray to refresh!

   Francis, who worked in product design and development in the fashion industry before having kids, recently tinkered with her soaps, and is now making them from a base of shea butter and olive oil.  A recent addition to the Khushi line is tub teas, giant herb-filled tea bags that infuse baths with different scents like eucalyptus and rosemary. Her sister-in-law is making these "because I really wanted to have them on the line, but honestly could not handle one more thing!"

   For more information on Khushi, or to buy the products, go to www.khushispa.com.