Busy families often order takeout, and Asian food is one of the most popular choices. Chinese, Thai, Indian and Japanese food are all ordered regularly; these are also rarely cooked by Americans. Harumi Kurihara seeks to change that. A well-known cookbook writer and TV personality in Japan, Kurihara has just published her first book in the United States, Harumi's Japanese Cooking (Home Books, $27.95).
Kurihara emphasizes home cooking, with simple recipes. In a recent visit to New York, she reported that the Japanese are also growing concerned with childhood obesity, saying that "fast food is the culprit." Though she and her husband were extremely busy, she made eating family meals a priority with her children, who are now 27 and 30. She also made their school lunches — an elaborate bento box, every day.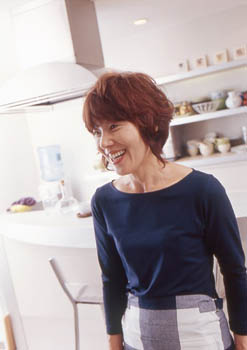 Harumi's Japanese Cooking has 75 recipes that will make even preparing sushi at home seem simple. And incorporating just a little of Kurihara's attention to presentation may make children more willing to sample unfamiliar food. Kurihara traveled to New York with her own bowls, plates and chopsticks because how her food looks is extremely important. In our family, everyone has his own special chopsticks and Asian soup spoon; this gets the kids excited by the meal.
Re-Thinking the Lunchbox
Dr Rallie McAllister, author of Healthy Lunchbox: The Working Mom's Guide to Keeping You and Your Kids Trim (LifeLine Press, $19.95) is the perfect mouthpiece for the healthy food movement. A family doctor, mother of three, and host of a TV health show, she is her own best audience — an extremely busy parent who is committed to nutritious food. But she speaks to parents who don't necessarily have the time to prepare a home-cooked meal more than one night a week.
Dr. McAllister, cites studies that show that one-third of American children are overweight, and rising; she notes that kids today have a shorter life expectancy than their parents, due to the obesity epidemic. But she has some simple solutions (such as substituting whole grain bread for white, and mustard for mayonnaise), that can make a real difference.
She acknowledges that fathers bear responsibility, too, but believes "the reality is that mothers are the nutritional gate keepers for their families." Her husband is also a physician, and, she says, "It is hard to think about fixing a four course dinner at 7 o'clock." She brings her kids into the kitchen every weekend — her boys are now 9, 10 and 22 — and makes meals which she can freeze to use throughout the week. The book has some simple recipes, like a chicken-broccoli casserole, or salmon quesadillas, that can be made quickly. But its great advantage is guidance for a nutritional make-over. There are snacks that fast food addicts can enjoy, and "action plans" that help you figure out what to buy.
Dr. McAllister also discusses what she calls the "danger zone", the four hours after school when many children are untended and the majority of calories are consumed. She notes that parents are concerned with environmental hazards, and protecting kids from traffic, "yet allow intimate exposure to horrible food. One deal we've negotiated with our 9- and 10-yr-old is a dance pad. When they play video games, they have to activate controls with their feet."
A 2006 nationwide Healthy Lunchbox Survey found that when parents who prepare kids' lunches or are aware of what their children eat for lunch, the children are about 25 percent less likely to be overweight.