Emma Walton Hamilton is, quite naturally, involved in theater — her mother is Julie Andrews; her father, set and costume designer, Tony Walton. Hamilton went that route, too, working as an actress for 10 years. But she has focused her energies on theater production since becoming a mom — her kids are Sam, 10 and Hope, 3 — and they also inspired her to get into writing children's books, which she does with great success with her famous mom. The two have just finished their 15th book collaboration.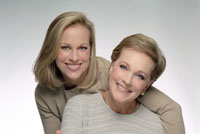 Hamilton co-founded The Bay Street Theatre in Sag Harbor, where she lives. And this year, in addition to writing the newly released book, The Great American Mousical, the mother-and-daughter duo of Andrews and Hamilton are National Ambassadors for Kids' Night on Broadway.

This is actually a misnomer; Kids' Night on Broadway will be held this year on two nights in New York City, January 30 and 31. And there are special nights around the county where parents can get a free child's ticket for every adult ticket purchased.

Hamilton grew up spending most of her time in Los Angeles with her mother and vacations with her father in New York. When living with her father, she saw "as much theater as I possibly could," including Pippin 16 times! She has continued this tradition with her own children; Sam has seen many Broadway shows and while Hope is too young for Broadway, she sees "everything we do at Bay Street." The theater has a year-round presenting program, which Hamilton likens to The New Victory Theater; in addition, it does four main-stage productions geared toward adults during the summer season. Hamilton is director of Bay Street's Educational Outreach and Young Playwrights Programs, as well as heading up Kidstreet, their programming for young audiences. She is married to actor/producer Steve Hamilton, who is executive director at Bay Street, and co-founder.

Broadway, of course, currently has the new production of Mary Poppins, one of Julie Andrews' signature roles. When we talked, Hamilton had yet to see this West End transplant; she admitted she was curious to see it, but would do so on her own first — to make sure its 'slightly scary' concept would be OK for 'tender-hearted' Sam to see.

For now, Hamilton and Andrews are adapting one of their own books, Simeon's Gift, for the stage, and it will debut at Bay Street. Technology has enhanced their collaboration; they each have web cameras and make appointments to meet online and work. This is also a great tool for Andrews to virtually visit her grandchildren; she does often visit in person, but Hamilton says the web camera is something she wished she had when she was younger.

Simeon's Gift is actually a story that Hamilton worked on with her parents when she was about 6. "It was initiated by my parents as an effort to bridge the distance between them for me," she remembers. Mother and daughter wrote it, and her father illustrated it — "showing, in an odd way, we were still a family." And the creative collaboration continues. Tony Walton has illustrated many of the books his daughter and ex-wife have written together.

While Hamilton says she never anticipated working with her mother as an adult, "We have a very organic, mutually respectful partnership that provides an opportunity to spend time together without family nonsense."

She notes that the Dumpy the Dump Truck series, also written with her mom, "were completely and directly a result of Sam's passion for trucks and my inability to find much of value in the truck genre." Now Hope reads them "passionately" — the first book's success has spawned five more Dumpy books. She described the writing duo's latest book, The Great American Mousical, as a "love letter to Broadway", and a fitting book to be associated with Kids' Night on Broadway.