Staying at a hotel with its own indoor water park pretty much guarantees a vacation of family fun. So if you go to
Indianapolis
, a great place to stay is the
Holiday Inn North at the Pyramids
, home of Caribbean Cove, an enclosed water wonderland attached to the hotel, where you can spend the day getting wet but never cold or sunburned. The park has three huge slides, two of which require tubes. On Kastaway Kidz Island, enjoy fountains, small slides, and a 700-gallon bucket that regularly dumps water on willing guests. There is also a lazy river ride, a pool with multiple basketball hoops, and two hot tubs. The hotel has an indoor pool adjacent to many of the rooms; if your kids go to sleep before 10pm, be sure to request an 'outside' room because of the possible noise factor.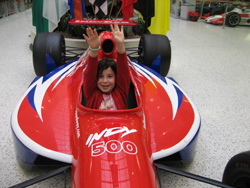 You'll want to get up early to head to
The Children's Museum of Indianapolis
, the world's largest children's museum.  With a dinosaur bursting from the side of the building, you know this is the place to be for the 10-and-under crowd.  There is so much to do here that you could easily fill two days. The museum boasts a working antique carousel (rides are $1), a rock climbing wall that offers a serious challenge (get a free timed ticket when you enter), and "Fireworks of Glass" by the renowned glass artist Dale Chihuly, where you can help create a colored "glass" sculpture and blow glass virtually on a computer. There is a water play area where you can build a boat, as well as a planetarium and displays of exquisite miniature rooms.  In 'Dinosphere: Now You're in Their World', you are transported back to the Cretaceous period; in the "modern" world, you can dig for fossils.   An exhibition of trains features model locomotives running through it, and an old train that you can "ride" as scenery speeds by through the windows. 
   If your kids like trains, you might want to stay at the
Crowne Plaza
, where some of the rooms are in actual train cars.  The hotel, in a converted train shed, sits atop in-use tracks, so you occasionally feel the locomotives rumble through.  The 26 Pullman Traincar sleepers (there are also traditional rooms) are outfitted with premium mattresses and fluffy comforters. Though the bathrooms are tiny, train enthusiasts (like my 9-year-old daughter) will be in heaven.
   Since said 9-year-old is in fourth grade, studying Native Americans, we slipped in a little education at the
Eiteljorg Museum of American Indians and Western Art
.  She was drawn to the area where she could practice basket weaving and build a tipi.  Be sure to pick up a "Family Adventures" pack with sheets about different areas; there is also a free audio tour.  On the lower level, there is a hands-on section with a stagecoach kids can explore.
   Next door is the
Indiana State Museum
, with an IMAX theater.  There is more about Native Americans here, including a wigwam that you can enter, and an exhibit on pioneers.  There is also a re-creation of a landmark tearoom, which serves lunch and Sunday afternoon tea.
   You can walk beneath dolphins at the
Indianapolis Zoo
, where a glass dome allows you to look right up into their tank.  The zoo has a playground, train ride, and small rollercoaster. 
   The
Indianapolis Museum of Art
is on 152 acres, so you can stroll the botanical gardens and sneak in a little art appreciation.  When my kids were little, they loved to explore gardens with paths, bridges and grassy hills for rolling; this is the perfect spot for all of that.  Also on the property is the Oldfields-Lilly House, a National Historic Landmark filled with period furnishings and a history of the wealthy families of the area. The house has a gorgeous antique car stored inside, and a replica that kids can redecorate.
   Inside the museum, my kids particularly enjoyed the Asian art gallery, where they could sit on a tatami mat, or read Japanese picture books in a sitting area behind a tranquil rock garden. In a large textiles area, wedding gowns are on display, and short videos show wedding ceremonies from different cultures.
   My husband insisted on a trip to the I
ndianapolis Motor Speedway Hall of Fame Museum
.  I thought, with our three girls, we'd be the only females in the place, but there were a surprising number of women around.  One, unbidden, told us about the famous women racecar drivers.  If racing is your thing, you can see old sports cars, motorcycles and a video.  You can also, if you are little, sit in a replica of a racecar.  And you can take a ride — a slow ride — on the racetrack.

For more info:
—Holiday Inn North at the Pyramids:
www.caribbeancovewaterpark.com;
(317) 872-9790 
—The Children's Museum of Indianapolis:
www.childrensmuseum.org
; (800) 208-Kids.  Open daily 10am-5pm, and the first Thursday of each month 5-8pm as well (with free admission).  $11.50 adults, $6.50 children 2-17, free for under 2.
—Crowne Plaza Hotel at Historic Union Station:
www.crowneplaza.com;
(800) 2-CROWNE
—Eiteljorg Museum of American Indians and Western Art:
www.eiteljorg.org
; (317) 636-9378.  Open Monday-Saturday 10am-5pm, Sunday noon-5pm; till 8pm on Tuesdays.  $8 adults, $5 children 5-17, free for 4 and under.  The museum has an excellent café.
—Indiana State Museum:
www.indianamuseum.org
; (317) 232-1637. Open Monday-Saturday 9am-5pm; Sunday 11am-5pm.  $7 adults, $4 children.
—Indianapolis Zoo:
www.indyzoo.com
; (317) 630-2001. Open daily 9am-4pm. March-October  $13.50 adults, $8.50 children 2-12, free for under 1; $7 on select Community Tuesdays. January-February, November-December $8.50 adults, $6.50 children 2-12, free for under 1. Parking is $5.
—Indianapolis Museum of Art:
www.ima-art.org
; (317) 923-1331.  Open Tuesday-Sunday 10am-5pm, till 9pm on Thursdays.  $7 adults, free for 12 and under, free on Thursdays.  Admission with the Lilly House is $10.
—Indianapolis Motor Speedway Hall of Fame Museum:
www.indianapolismotorspeedway.com/museum
; (317) 492-6747.  Open daily except Christmas 9am-5pm; $3 adults, $1 children 6-15, free under age 6.  Speedway tours are an additional $3.
—For general info,
www.indy.org
.