This summer, whether it's a rainy day or you're trying to take a break from the sun, there are plenty of fun indoor activities to keep your child active, healthy, and anything but bored.
Jump Around

"What kid doesn't like jumping?" asks co-founder of Bounce! Trampoline Sports Michael Gross, a Tappan native. "You can literally jump off the walls here. Instead of jumping or running in the house, they get to do it here."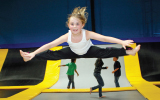 Air Split: Kids of all ages
love jumping on the trampolines at Bounce! in Valley Cottage.
Bruce Katz
At Bounce! of Rockland, located in Valley Cottage, you're as likely to see newly walking tots practicing their balance as 70-year-old grandmothers taking an aerobics class. The space features four expansive courts made of trampolines where jumpers can play trampoline dodge ball, bounce from one trampoline to another, use the trampoline to dunk a basket, or even use it as a springboard to dive headfirst into a foam pit.
New this season, the 25,000-square-foot-facility offers Mommy and Me classes in which parent and child get to exercise together. Also new this summer will be a fitness program for children that encourages physical activity and teaches nutrition. Simply jumping on a trampoline for an hour can burn about 1,000 calories, while exercising on a trampoline can strengthen and tone muscles.
Bounce!, which sees jumpers coming in from Long Island, Westchester, and parts of NJ and CT, plans to open a second location in Long Island this fall.
Knock 'em Down!
Fun Fact: Did you know bowling two games burns about the same amout of calories as walking one mile?

Head to your local bowling alley to see who can knock down the most pins (for free!). In its fifth year, Kids Bowl Free is back this summer, continuing to serve more than a million children and 700,000 families across the U.S. This summer, test your skills at the bowling alley—each child gets to bowl two free games every day throughout the summer at all participating centers. To learn more about the program or to see if your local bowling alley is participating, head to kidsbowlfree.com.


It's in the Box (Fun, That Is!)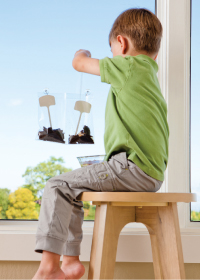 The indoor garden kit from kids' activity subscription service Kiwi Crate is designed for small spaces, perfect for city or suburban families.
Courtesy Kiwi Crate
Nurture creativity and curiosity with Kiwi Crate, a new subscription service featured recently on Good Morning America that delivers a kit each month for hands-on learning and play. The kits are all-inclusive, so parents don't have to worry about not having a craft stash of glue sticks, glitter, straws, and what-nots to inspire their child's creativity. Each kit has a theme, such as space, safari, colors, or gardening, and has enough supplies for a child to complete at least two projects ($19.95 per month, $220 per year; ages 3-6; kiwicrate.com).