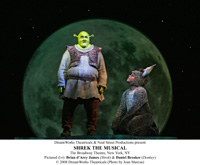 • Shrek the Musical appeals mostly to kids 6 and up, but middle-aged men also fall in love with the show on a regular basis (I have one of my own who can't wait to go back!).


• It takes d'Arcy James about 40 minutes to get out of his costume and makeup after a performance. "I'm especially appreciative to the faithful who do stick around to meet me. I will say matinees are tough, because I don't go out between shows and meet the kids," he says. (Not a problem after a Sunday matinee, though – no evening show.)
• Oddly enough, even when he isn't in his Shrek costume and makeup, kids recognize him at the stage door. But just in case, he's always ready to speak in Shrek's voice — and he's pretty generous with his high-fives, too.
• The
Shrek
website is a terrific intro to the characters, the music, and the genuine fabulousness of the show (there's even a
Shrek
puzzle). Visit it with your kids for an ogre-sized feast of giggles and grins.
www.shrekthemusical.com.
• Twenty famous fairytale characters appear in
Shrek
: Pinocchio, the Sugar Plum Fairy, Gingy (the Gingerbread Man), the Shoemaker's Elf, the Three Blind Mice, the Ugly Duckling, the Three Bears, the Big Bad Wolf, the Fairy Godmother, the Bluebird of Happiness, Peter Pan, the White Rabbit, the Wicked Witch, Humpty Dumpty, plus a Gnome and a Dwarf.