As the lead of Moey's Music Party, Melissa Levis, a mom in New York City, is a kiddie rock sensation. Levis sits down with NYMetroParents to answer 10 questions about parenting, marriage, and share her advice for other working parents.
Melissa Levis is just like you. She's a working mom in New York City raising her 8-year-old son, Monty, dealing with the same worries and concerns as every other parent. The only difference is she's a rock legend amongst children. Levis, leader of Moey's Music Party, has turned her passion for music and motherhood into a career that has bestowed her a Parents' Choice Award, not to mention some serious playground cred. With three albums under her belt, Levis is no stranger to having the spotlight turned on her.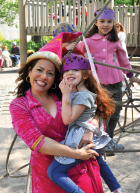 1. How do you steal away for some me-time?
I love running errands at Duane Reade so I can read magazines while in line.

2. What do you look forward to most about your child growing up?
Everything. My husband and I are completely smitten by him—he is a marvel and we love discovering more about him each day. My favorite thing about motherhood is watching my son grow, seeing life through his eyes.

3. What's the most important lesson your child has taught you?
To sit still and be present when we get to be together, be it doing homework, eating meals, watching movies. Don't multitask on my iPhone when I get the time to just enjoy him.

4. What's been the most surprising thing about parenthood?
How little you sleep for the first five years.

5. Is there one thing you thought you'd never do as a parent that you find yourself doing?
Hmmm. I never thought I'd give my kid a pacifier, and after the first night home with an infant I ran out and bought five. Other than that, I think I'm the mom I hoped I'd be!

6. What's the best marriage advice you have for our readers?
Everyone needs a little space.

7. Best kept secret for parents?
Central Park has amazing free programming all summer long.
8. Have any special family traditions?
We have a very special Friday night tradition. We light the candles and say the traditional Jewish blessings, then we each go around the table and share something we liked about our week, something we didn't like, and something that was new. My husband always surprises us with a dessert from a Hungarian bakery, and then we watch a movie snuggled up in bed.

9. What advice do you have for other working parents?
The toughest part of being a working parent is simply finding the time for everything. It's such a juggle and my hat is off to all parents, working out of the home or staying home full time. What works best for me and my husband right now is trying to schedule as few things as possible and to stay home as much as we can playing cards with our son on the weekends, going out for family dinner every Sunday, and heading outside together on these gorgeous NYC days (in the winter we went ice-skating).

10. If you weren't a musician, what would you be doing?
Helping my parents run our family inn, the Wilburton Inn in Manchester, Vermont.

For more on this NYC rocker mommy, pick up Levis's new album "The Princess Revolution," which focuses on empowering girls and redefining what it means to be a modern-day princess, or her Parents' Choice Award-winning CD/DVD Happily Ever Moey! A Fairly Tale Lark in Central Park, which puts a modern musical spin on 15 classic children's stories, including "Snow White," "Goldilocks," and "The Little Red Hen."
This summer, you can also catch her performing around New York City (at press time, upcoming shows were scheduled at Bryant Park in Manhattan and Albee Square and Fort Greene Conservancy in Brooklyn), stop by one of her classes in Central Park (starting June 6), or book her for your own child's birthday party.
For more information, visit moeysmusicparty.com.