Never one to shirk a challenge, Marlee Matlin became an actress despite her disability - a difficult enough accomplishment as a deaf woman — and then went on to win an Oscar. Nor has being deaf stopped her from becoming a mom - she has four children under 11 — and she continues to work as an actress and an advocate for children. She helped found the Elizabeth Glaser Pediatric AIDS Foundation, and is now involved in the Children Affected by AIDS Foundation, and with the American Red Cross.
Literacy is of major concern to Matlin as well.She wrote a children's novel in 2002, Deaf Children Crossing, and this summer will release her second book, Nobody's Perfect. A sequel is planned for next year.
All of which makes her a natural spokesperson for the ABC Campaign, Aquafresh's new partnership with First Book, which provides low-income children with the opportunity to read and own their first new books.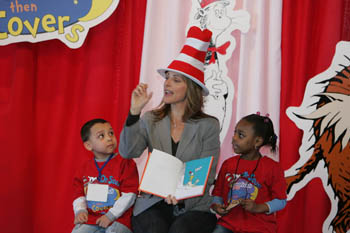 The ABC Campaign is all about bedtime routines. "Being a mother, I can relate to the struggle many parents have in developing a bedtime routine that the family can stick to," says Matlin. "With four kids of different ages, bedtime can be a three-ring circus."
In this matter, she is far from alone.The dental hygiene company surveyed 1,000 parents of kids ages 2 to 8, and found that 45 percent of parents find it a challenge to get their children to bed.And 35 percent went so far as to describe their kids' bedtime as "stressful," a ""chore," or "rushed."
The survey also showed that only 16 percent of parents say their kids spend the recommended two minutes or more brushing their teeth.And while it's recommended that parents supervise teeth brushing of kids ages 2 to 6, the survey revealed that only 38 percent of parents do.
So Aquafresh has devised a campaign pulling together all these facets: "A (Aquafresh) + B (Books) + C (Covers)'" was launched at Chelsea Piers with the Cat in the Hat and Things 1 and 2 on hand to draw attention to the Dr. Seuss lines of kids' toothbrushes and toothpastes, and Matlin flew in from LA to read Green Eggs & Ham to a group of kids who seemed unphased by the process of Matlin reading the book through signing, and her interpreter, on the side with a microphone, repeating the words.
Afterwards, Matlin graciously talked about her family — two sons and two daughters ages 2 through 10. The Dr. Seuss books are her kids' all-time favorites, and she and her husband — a police officer -maintain a regular bedtime reading schedule. Right now, she reports, her 5-year-old son gets to choose each evening's reading, and because he has just learned to read, he does the honors for the whole family.
While Matlin uses signing almost exclusively, answering questions through the interpreter who travels with her, at home, she says, the family speaks and signs simultaneously.Matlin's kids are all trilingual - they speak English, Spanish (picked up from their nanny), and sign language, which Matlin says she taught them all from birth.
She is a proponent of teaching signing to all babies. "The earlier the better," she believes. "It increases IQ, and allows them to interact before they have verbal skills." Matlin appears on the Baby Einstein series of videos, teaching sign language to infants and toddlers.
She has also appeared in numerous episodes of Nickelodeon's Blue's Clues, as Marlee the Librarian.And grownups will have seen her recently on such TV shows as West Wing and Desperate Housewives.
How does she manage such a busy life? "Makeup helps!" she quips. "It helps me feel good when I leave the house."
And she acknowledges strong partner support: "I have a good husband. Before I make any commitments, I work it out with his schedule. It would be chaos otherwise."
Yes, there's a nanny "but only on weekdays.
"
For more information on First Book — the organization has distributed over 40 million books to children since its inception in 1992 — go to

www.firstbook.org

.

For any combination of purchases of two Dr. Seuss toothpaste or toothbrush products, Aquafresh is offering one of six free Dr. Seuss books, as well as an ABC Campaign brochure with healthy bedtime tips and information for parents, plus fun games for kids.  Look for mail-in instruction on the packaging.  For the first 10,000 books redeemed, Aquafresh will also donate a Healthy Bedtime Kit, with a Dr. Seuss book and toothbrush and toothpaste, to First Book.

For more information on kids' dental hygiene and for bedtime tips from pediatrician and mom, Dr. Laura Jana, go to www.aquafresh.com.