Ah, the pressures - of training, of always trying to win. Don't let them get in the way of what youth sports are really all about. Consult our advice from experts in the field on how parents can be supportive without going overboard.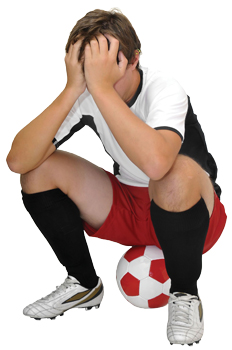 Experts recommend that kids get at least one hour of physical activity every day. For many young Americans - anywhere from 30 to 45 million kids aged 6 to 18, according to a 2007 study published in the journal Pediatrics - participating in youth sports is part of the way they get the physical activity they need to stay healthy.
But participation in youth sports doesn't come without risks. In recent years, youth athletics has been plagued by allegations that parents and children are taking them too seriously. In 2000, a teen Illinois hockey player pleaded guilty to a misdemeanor charge for inflicting a paralyzing injury on a rival. In 2006, the father of a French teen tennis star was charged with manslaughter after he drugged his son's opponent; the child fell asleep while driving home, crashed his car and died.
While these circumstances are extreme, even young children often face vigorous schedules, an increased pressure to win, an intense pursuit of perfection, and numerous injuries. Many burn out after being pushed too hard by their parents. According to the National Alliance for Sports, 70 percent of children will quit playing organized sports completely by age 13 because sports stopped being fun.
It doesn't have to be that way. And how parents react during their kids' athletic games or events can make a big difference in how those children feel about sports in general.
The Psychology of It All
There are simple do's and don'ts to follow to make sure young athletes have positive experiences long before they step onto the court and long after they're done competing, says Joan S. Ingalls, Ed.D., a New York City sports counselor with a practice in the West Village who is also a certified consultant for the Association of Applied Sport Psychology.
Before the season starts, young athletes should choose their sport. Regardless of the child's choice, parents should be supportive. If it happens to be a sport that his or her parents excelled at, it becomes increasingly important that parents avoid reliving their past success or fulfilling their still-unattained fantasies through their kids.
It's easy to get caught up in practice and game-time excitement. If children show promise at a young age, parents or coaches may encourage them to give up other sports. The American Academy of Pediatrics cautions against that all-or-nothing approach. Young athletes who specialize in one sport will miss out on the benefits of other activities. They will also face additional physical and psychological demands from intense training and competition that they may not be able to meet. That, Ingalls says, is unfortunate.
After all, only 0.2 to 0.5 percent of high school athletes will make it to the professional level. Instead, parents should use youth sports to teach their children important lessons like respect for their coaches and teammates and how to work well with others. Youth teams can also help children learn to trust others and build long-term relationships. Ingalls encourages theater-like improv games that help children focus on being present, listening, clearing away judgments, ignoring worries, and being ready to respond to demands, during the early part of any youth season.
As a season progresses, Ingalls says, children may become nervous that they will make mistakes
during games and let their coaches and teammates down. Some teams or athletes experience so much success that losing can be quite devastating.
"Sports can be a scary emotional environment in which a child feels he or she is being judged," says Ingalls. "Parents can help by teaching their children that there are other kids who are going to beat them at times - or that they may just have off days.Children have to be able to say, 'I am not perfect. I make mistakes. I am human. I am not so special that I should win all the time or even perform well all the time,' " she reiterates.
Post-Game Parenting
Once the game ends, parents can help their children learn from mistakes by asking them how they could have responded differently to situations, or what improvements they can make. Parents should be cautious, though, of providing unwanted feedback. Children who talk only about sports with their parents, look at their parents for approval between plays, or argue constantly about their sport may be subtly telling their parents that they're being pushed too hard.
And different problems can arise when parents blame coaches, other players, or referees if their child doesn't play well or if the team doesn't win. Children who watch their parents shift the blame to others have a hard time being accountable for their own actions later in life.
"Your coach is probably doing what his coach did, and it's what he or she knows," Ingalls notes.
Parents, coaches, or school administrators who are interested in working with a sports psychologist must find one who meets the athlete's needs. Some specialize in helping kids improve their performance through visualization or calming their nerves. Some work with injured or recovering athletes, those who have struggled with eating disorders, or other issues. All, including clinical and counseling psychologists with specific sports psychology training, can help parents and kids alike maintain (or find) a healthy perspective on the game.
"Sports should not be a 24/7 occupation," according to Larry Lauer, Ph.D., of Michigan State University's Institute for the Study of Youth Sports. "In fact, it should not be an occupation at all." His prescription for a great parent-child relationship: "Love and support your child unconditionally." Beyond that, when it comes to sports, "avoid being uninvolved or afraid to push a little for fear of pressuring; just do it with forethought and your child's best interests in mind."