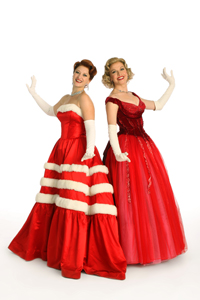 The lights, the toys, the trees, the menorahs — holiday displays are everywhere in New York. And so are the city's family-friendliest shows and events. So prepare for entertainment galore (and all things merry and bright)!
• The Big Apple Circus:
Play On!
arrived at Lincoln Center's Damrosch Park on October 23, and once again Grandma the Clown and her posse of performing cohorts are out to one-up one another. In this intimate one-ring setting, the audience is always close to the action: no seat is more than 50 feet away. The show's current edition,
Play On!,
has been plucked from Shakespeare's comedy
Twelfth Night
, a title referencing the Eve of the Epiphany on January 5, the official end of the Christmas season and a time once marked by revelry in the extreme.
www.bigapplecircus.org
.  
• Wintuk, Cirque Du Soleil's winter-centric show, made its critically acclaimed New York debut just last year. This tantalizing production, fusing a heartwarming storyline with Cirque Du Soleil's signature surrealism and astounding physical performances, has returned to stake its claim as one of the city's cherished holiday events. At Madison Square Garden's WaMu Theatre. www.cirquedusoleil.com. 
• And speaking of cherished holiday events, the Radio City Christmas Spectacular officially takes over the legendary Music Hall at Rockefeller Center on November 7, when it begins its two-month run of performances — up to four a day — featuring the world-famous Rockettes in classic production numbers (would it really be Christmas without their kick line of Santas?) along with a sleigh-full of dynamite yuletide surprises. www.christmas.radiocity.com. 
• Meanwhile, Off-Broadway at New World Stages, bubble lovers and bubble enthusiast wannabes are lining up for Fan Yang's annual Gazillion Bubble Show Holiday Spectacular. This year's seasonal bubble extravaganza is even more eye-popping than ever, featuring original laser and bubble feats never before performed on a New York stage. Kids love Fan Yang's interactive fantasy world and grownups come away equally dazzled. www.gazillionbubbleshow.com.
• On Broadway, Slava's Snow Show represents the most limited of limited holiday engagements — a mere month (December 2-January 4), so make time for a visit to the Helen Hayes Theatre.  Here you'll find a brilliantly funny, totally unforgettable clown show created and staged by Russian-born clown extraordinaire, Slava Polunin. I became a convert during its 2004-2007 record-breaking run Off-Broadway, but Polunin's singular approach to the art of clowning extends far beyond New York, his Snow Show alone having brought him numerous awards and global renown. www.snowshowonbroadway.com.
• Also making its Broadway yuletide debut this year is Irving Berlin's White Christmas at the Marquis Theatre. From all accounts, this stage "reinvention" of the revered 1954 film classic (Bing Crosby, Danny Kaye, Rosemary Clooney, and Vera-Ellen) is one joyous picture postcard of a show, with costumes, music and choreography designed to leave audiences breathless.
   According to the show's director, Tony Award-winner Walter Bobbie (Chicago), White Christmas is no carbon copy of the movie. "It captures the feeling and the heart of the story without mirroring the film," he says. With nearly two dozen orchestra members, a cast of 32, multiple show-stopping numbers, and a built-in family-friendly buzz, White Christmas promises audiences a bounty of holiday fun and memories.
  

Bonus: 90 minutes prior to each performance, theatergoers can enter a lottery drawing at the Marquis Theatre Box Office for a limited number of $26.50 lottery tickets in the front row of the orchestra.  Winner's names will be drawn at random one hour prior to curtain time for each performance (two tickets per person limit; cash only purchase). Winners must be present with valid identification at the time of the drawing. www.whitechristmasthemusical.com
.