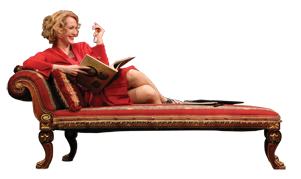 When you're a working actress in New York City with a family you love to spend time with, scheduling challenges can be fierce. Not only are you looking at school send-offs in the a.m., at night you find yourself dashing home after a curtain that doesn't fall until 11 p.m. (and past your only son's bedtime). In between, of course, there's all that miscellaneous actress/mom stuff to contend with: TV work (commercials, network dramas, talk shows), auditions ("Can you try it again with a bit more hysteria, please?"), rehearsals, working out, dental appointments, matinees, coaching sessions, shopping, cleaning the kitty litter...you get the idea.
Yet somehow, the versatile Jan Maxwell - who began her Broadway career in City of Angels and has worked steadily in musicals and plays both On and Off Broadway ever since - manages, coming up with solutions that are, well, creatively Maxwellian.
For example, since she doesn't have the luxury of walking in the door at 5:30 or 6 p.m. and collapsing on the couch - "I have to go to work," she says, citing evening performances of her current show, The Royal Family, which start at either 7 or 8 p.m. - she and her 13-year-old son, Will, still manage to squeeze in some one-on-one time.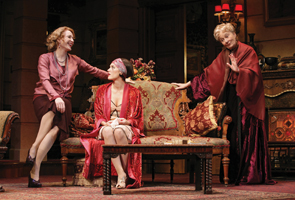 "We go out to the elevator area and play soccer," she says, adding, "Those three minutes of throwing a ball back and forth have become very important to us."
For New York theater lovers, Maxwell rates as one of those "must-see" actors who simply don't have it in their DNA to give a mediocre-let alone bad-performance. (Her two Tony Award nominations were for her divinely over-the-top portrayal of Baroness Bomburst in the 2005 family musical Chitty Chitty Bang Bang and her compelling take on the housekeeper role of Mrs. Lynch in 2007's Coram Boy.)
Still, if you don't get to the theater as much as you'd like, chances are you'll recognize the Fargo native from her memorable turns on TV's Law & Order (four so far) or perhaps from her acclaimed audio work (voice-overs and a good many books on tape).
And as for the world's toughest theater critics-they're among her biggest fans:
"....Mariette Levieux.... is a successful popular novelist played-lucky for us- by Jan Maxwell, who gives off a real French brittleness as well as a troubled emotional current...."
-Ben Brantley, (re: The Dinner Party in 2000)
"...the amazing Jan Maxwell (is there any role she can't dazzle with?)"
-John Simon, New York Magazine (re: Chitty Chitty Bang Bang)
"...the splendid Jan Maxwell... gives the sinister housekeeper Mrs. Lynch an intriguing frisson of ambivalence..."
-Eric Grode, New York Sun (re: Coram Boy)
"....the divine Jan Maxwell plays her role with the sparkle, bubble, sweetness and bite of a properly chilled champagne..."
-Adam Feldman, Time Out New York (re: The Royal Family)
The Facts
At Work: Currently (through December 13th) starring on Broadway as Julie Cavendish in Manhattan Theatre Club's critically acclaimed revival of the George S. Kaufman/Edna Ferber comedy based on the Barrymores, The Royal Family. (Samuel J. Friedman Theatre, 261 West 47th Street; 212-239-6200; www.mtc-nyc.org)
At Home: Manhattan. Mother of one son: Will Maxwell-Lunney, 13. Husband: Robert Emmet Lunney, actor/writer.
Q. What is your favorite activity with your son?
JM: Listening to him! He has such a great personality and tells such great stories about himself, his day, or something he has observed in others. I think if a teenager is talking to his parents, well, it's got to be a good thing.
Q. What is the most important lesson you try to impart to your son?
JM: To me, the most important lesson is empathy: putting yourself in others' shoes before reacting or judging; being kind and doing the right thing.
Q. Who was your greatest child-raising influence, and why?
JM: Of course, my parents were great influences on me and I would have to say, so was my older brother, Bill. He has such a wonderful sense of humor and is the most caring person I know. Also, I had some very passionate teachers when I was growing up.
Q. What is your approach to disciplining your child?
JM: This has been a big struggle for me - so many theories out there. I question my methods every day. I do what most parents do, I suppose. I take things away - usually electronics - under the heading "consequences." But, to tell the truth, I don't know if that really works. I've been trying lately to explain to him the "bigger picture" of his behavior, but something tells me that 13-year-olds really don't have a strong sense of the bigger picture. They seem very "in the moment." So I'm always up for suggestions.
Q. What was a memorable family outing?
JM: Going midnight sledding on New Year's Eve and then building a seven-foot snowman together, followed by a long walk through a snowfall and making snow angels all the way down the road.