The Facts
At Work: Currently starring in the Broadway revival of A View from the Bridge. Also a busy TV and film actor.
At Home: Manhattan. Mother of daughter, Stella Rose, 10, and son, Carlo, 8 ½. Husband: TV and film director Adam Bernstein.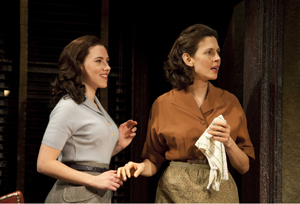 You might know her best from her recurring role of Susan Bunch (lesbian partner of Ross Geller's ex-wife Carol) on Friends... or the film Sideways (playing Victoria, Paul Giamatti's ex)... or her impressive guest appearance on The Good Wife...or, more than likely, her current critically-acclaimed performance as Bea Carbone opposite Liev Shreiber and Scarlett Johansson (above) in the transcendent Broadway revival of Arthur Miller's A View from the Bridge. In contrast, when she's in residence in her alternate "mom universe," actor Jessica Hecht's star shines brightest in her role as involved parent at the Bank Street School, where her daughter Stella is a student, and the Anderson School, attended by her son Carlo.
While it might seem that nightly performances could be a serious drag on family time, Hecht loves the fact that she can leave the house at 6:45pm and be home from the theatre by 10:30pm. "I know, a lot of people think actors go out and party after every show," she notes, "but most of us can't wait to get home afterwards."
Talking to Hecht is a wonderfully effusive experience. She clearly loves every aspect of her life and is enjoying the standing ovations-a rarity for non-musicals on Broadway-A View engenders from audiences.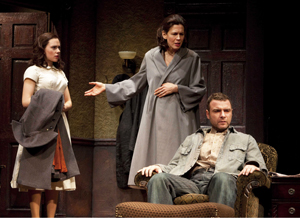 Interestingly, Hecht didn't know she wanted to pursue an acting career until she began studying at Connecticut College. It was the legendary actor/Group Theatre icon Morris Carnovsky who encouraged her to head to New York-"Carnovsky originated the role of Alfieri in the original 1954 production of A View," she notes-which led her to NYU and the revival's director Gregory Mosher, who was a professor there at the time.
Hecht connected with the late Arthur Miller and Schrieber in 2004 during a reading of another Miller work, After the Fall. "Miller was so meat-and-potatoes in his descriptions. It was eye-opening
Hecht, center, with Scarlett Johansson and Liev Schreiber in A View from the Bridge on Broadway. ©Joan Marcus, 2010
working with him," she says.
But then much of Hecht's life has been a study in extraordinary encounters, including the one with her husband, Adam. They met in a bar in Los Angeles only to discover they had both been born a few years apart at the same hospital in Princeton, New Jersey, and that both their fathers were physicists at Princeton University during the 1960s.
Q. What is your favorite activity with your kids?
JH: With both, it's going to a performance-especially to the New Victory where we go as often as possible because of the wonderful environment and shows they choose. One on one, with Stella the thing I love most is working with her at school events. Recently, we were standing side by side serving at a buffet dinner for Martin Luther King Day, and I kept thinking, "Here we are, dishing out baked ziti, and she's already in the 5th grade -time goes by so quickly!" As for my son, I just love going alone with him to a restaurant and talking-he's such lovely company-so much fun to be with.
Q. What is the most important lesson you try to impart to Stella and Carlo?
JH: To be kind and not to be judgmental of other kids. It's so clicky in their world. I tell them, you might not like a certain kid, but it's not up to you to judge. And I also try to instill in them a generosity of spirit. I get preoccupied with how lucky they are to live where they live and have what they have. I want them to have an innate sense of community service, but kids are kids and that's not intrinsic. After the earthquake in Haiti, my son, who'd been petitioning for a gaming system, said 'I don't want to spend the money on this... I think we should send it Haiti.'
Q. Who was your greatest child-raising influence, and why?
JH: My mom was incredibly nurturing when I was a little girl, but by the time I was a teen I think I felt she was too invasive. I learned a lot working as a nanny for George Wendt and his wife Bernadette Birkett for two years at the end of the Cheers era. She was a great mom, very loving and talkative-she'd explain everything. There were always a ton of kids all over the place, and it's because it was such an exciting house to be around.
Q. What is your approach to discipline?
JH: For good or bad, it's to take away screen time-TV, computers-on the weekend. It was my husband's idea. During the week they don't have any screen time, so we'll take away a weekend day or the whole weekend, depending. We also separate them and talk to them alone when everyone is calm. And, should it be something big-a hair-pulling offense-they have to write a letter to us explaining why.
Q. What was a memorable family outing?
JH: We went to Italy for two months last year, my husband and I, to teach and the kids went to public school there. It was emotional and difficult for them at first, but it turned out to be incredibly fascinating to exist as a family in a foreign environment -outside our comfort zone of lives based on the stimulus of "us." It became a joy just to sit down to dinner together or to have a conversation with the stationery store man. We want to go back again next year.
A View from the Bridge is playing at Broadway's Cort Theatre, 138 West 48th Street.
For reservations: 212-239-6200 or www.aviewfromthebridgeonbroadway.com. (Not for young children; highly recommended for teenagers.)