John Lithgow's kids could make an interesting case study of 'nature vs. nurture'. His oldest son, by his first wife, grew up in New York, and now lives in Los Angeles. His other kids, who grew up in L.A., both live in New York. And Lithgow, who says he "has always been an Upper West Sider" but moved to L.A. for love, has come to embrace the "psychic split" of the two coasts.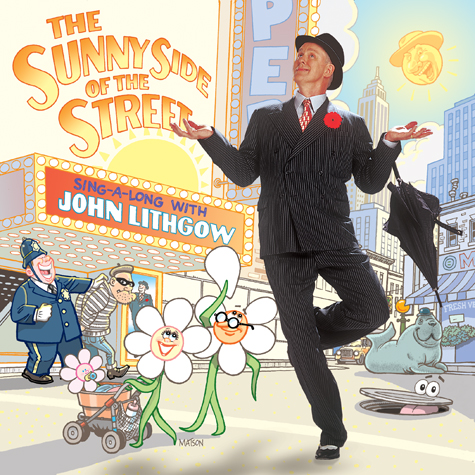 On Third Rock from the Sun, Lithgow acted with his son, Ian, who is still an actor. Lithgow's next job is a new sitcom, Twenty Good Years, with Jeffrey Tambor, which starts on NBC in September.

When he lived in New York with Ian, "there was not a square foot of Central Park we didn't explore," he recalls. They were also huge fans of the American Museum of Natural History — and this is in the days of the old Hayden Planetarium.
Lithgow has an entertainment empire of children' s books, CDs and roles in popular movies — he voiced the villain in Shrek — and years of starring on Broadway and in television. He became a grandfather last year, but says with a laugh, "She has her favorite books — all not mine."  

He says he read books like Goodnight Moon, Runaway Bunny, Where The Wild Things Are and Winnie the Pooh to his kids, but "I never figured I'd write them myself." He had been doing a lot of concerts for kids — he loves to sing — which resulted, inevitably, in a CD of his songs. This led him to present "bigger and bigger" concerts, and he started thinking about how a child would view an orchestra. He wrote a guide to the orchestra, all in rhymed narration, and saw it as a children's book. With a friend who was an illustrator, they had a book "before I realized it," he says. The Remarkable Farkle McBride was the result.

Lithgow says he draws inspiration for odd moments in life. For example, he was doing an outdoor concert at a zoo in Columbus, OH, when there was a huge storm. He sought shelter in the manatee house, and started thinking about rhyming the word 'manatee'. This became a book and CD, I'm a Manatee.

A few years ago, he created The Lithgow Palooza Company, whose mission is to be a resource for parents to inspire their kids in the arts. While he says he is "no expert on parenting," admitting "I've done as many things wrong as I've done right," he says he "put a lot of pressure on himself" to be a fun parent.  

Lithgow also recently partnered with Knowledge Adventure (makers of Jumpstart) on a new computer program, Books for You. He guides kids through the creative process, using one of four templates to write a book. Kids can print their books at home, or send them off to be professionally bound and printed.

Lithgow has such a distinctive voice, a child using the Books for You program will likely recognize Lord Farquaad, from Shrek. But his wit and warmth, evident also on his CDs, is what will keep kids engaged in the project.

Lithgow also has a new CD coming out this month, The Sunny Side of the Street. It will feature classic songs like "Getting To Know You" and "Inka Dinka Doo".