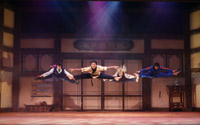 Hailing from Seoul Korea, Jump — the new off-Broadway theater production— brings audiences one part martial arts demonstration, one part physical comedy, and one part sitcom. This unique blend of ingredients creates a haphazard plotline, where literally anything can happen next.  The non-verbal cast is lovingly clownish, but also respectably trained, each with a unique persona and accompanying martial arts style. From the "Daughter" with a very fluid and graceful fighting style to the drunken "Uncle" who looks as if he's constantly falling down while he fights, the characters are the central tenet of the show.

   There are two basic plot devices in Jump. The first is a budding romance between "Daughter" and a geeky, grandfather-chosen suitor. Daughter is at first unimpressed with her suitor, but when his glasses are removed, he turns into a mix of Don Juan and the Incredible Hulk. This gag continues throughout the action of the show as the romance continues to develop. The second plot vehicle revolves around a pair of Abbott and Costello-style burglars who break into the family's house, complete with their own theme music. Battles of a humorous nature ensue, of course, and the burglars are thwarted.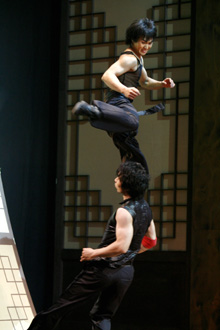 As for the audience, even before
Jump
kicks off, you can feel this is not going to be a normal night of theater. A crook-backed little old man with a cane disrupts rows of seated spectators by asking them to stand so that he can walk through. He even asked me, your faithful reviewer, for a piggy back ride, which I was obliged to give; I ended up carrying him right back through the same row of seats he'd just disrupted. My reward? A broken Lifesaver. The little old man continues to appear throughout the show as a sort of host and comic; it's all a ruse, of course, when, near the end of the show, he reveals himself as the best acrobat in the troupe. Grandfather also came into the audience at one point, and looking terrified, asked me when I got out of jail! He summarily invited two more audience members up on stage, one at a time, to be tastefully embarrassed as well. 
      The show runs approximately 90 minutes with no intermission and is appropriate for ages 7 and up; the runtime may be a bit long for younger children. There is also some male shirtlessness and adult humor that may be inappropriate for younger children.  
Info:

Where:
Union Square Theatre, 100 East 17th Street at Park Avenue South
When:
Tuesday–Friday, 8pm; Saturday at 2pm and 8pm; Sunday at 3pm and 7pm
How much:
Tickets, $20-$65, through
www.ticketmaster.com
or by calling (212) 307-4100. Group sales (10 or more) can be arranged by contacting Theatre Direct at 1-800-BROADWAY.
For more info:
www.jumpnewyorkcity.com