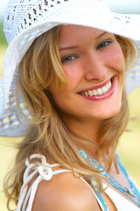 Every earthy mama looks at the ingredients on hair care products and cringes these days. But let's face it — when it comes to hair care, there are some chemicals we just have to live with if we want clean and conditioned hair. It takes two to four surfactants to formulate a good shampoo, and without them, you hair won't come clean. So they are a necessity and not a luxury item. And while most people can't skip conditioner, you can minimize your exposure to the conditioning agents by only conditioning the last inch or two of your hair and not putting any conditioner on your scalp. Conditioners fall under the "wash-off" category of products, and they do require chemical ingredients to serve their function. Nevertheless, your exposure can be greatly limited by changing the way you use your products.

Fortunately, there are plenty of ingredients that can be avoided if you are trying to go clean with the chemicals you allow into your home. While a good shampoo and conditioner are must-haves, you can cut down your exposure by using some surprising items from your kitchen.

• Baking soda works wonders in your hair. While your hair is still dry, mix one tablespoon of baking soda with a cup of warm water, blend thoroughly, and work it into your hair by hand and with a comb. Then jump in the shower and rinse it out.

• Apple cider vinegar is nature's miracle for hair. Mix two tablespoons of apple cider vinegar with a cup of warm water and work it into your hair. Then jump in the shower and rinse it out.

• Lemon juice can be added to your conditioner and applied. Mix one tablespoon of lemon juice with one tablespoon of conditioner and apply to your hair. If you want to lighten your hair naturally, spend some time in the sun with your hair damp with this solution. If not, then skip to the next step, which is to rinse it out thoroughly in the shower.

• Real mayonnaise is a wonderful hair conditioner. To use, simply dampen your hair, apply a thick layer of mayonnaise from your scalp to the ends of your hair. Comb it through and sit back for 20 minutes and relax, then rise and shampoo as usual.

And if your kids are exposed to head lice, the very best treatment comes right out your kitchen, too. Mix one cup of mayonnaise with a teaspoon of tea tree oil. Apply to the hair and cover the head with a plastic cap or plastic wrap. Leave it on for 20 to 60 minutes and rise.

• Beer makes a great rinse conditioner that leaves your hair more manageable. Simply bring a bottle of flat warm beer into the shower with you. Wash your hair with your regular shampoo and then rinse with beer. Rinse again thoroughly with water unless you want to smell like old beer later in the day.

• Salt is the secret to that windblown summer hair look that many people strive for. The salt dries in your hair and leaves it full bodied and sexy. You can get the same look by adding a tablespoon of salt to 4 oz. of water in an empty spray bottle. After washing and conditioning your hair, spray salt solution over hair and allow to air dry.

For me, the real secret to summer hair is simplicity and awesome hair accessories. As a mom I am busy keeping my kids active all summer. I need every hairstyle to be simple. And my new favorite hair accessory is good for me and my kids: the HairZing (www.hairzing.com) is the perfect solution to my hectic lifestyle. It is simple to use and looks fun and great at the same time.

KAYLA FIORAVANTI, RA is the chief formulator and co-founder of Essential Wholesale and Essential Labs, www.essentialwholesale.com.
---
The Bad and the Good in Hair Care Products

Ingredients to Avoid:
Cetearyl methicone, cetyl dimethicone, cyclomethicone, cyclopentasiloxane, dimethicone, dimethiconol, stearyl dimethicone, amodimethicone, trideceth-12, cetrimonium chloride, trimethylsilylamodimethicone, alkylbenzene sulfonate, ammonium or sodium xylenesulfonate, tea-dodecylbenzenesulfonate, ethyl peg-15 cocamine sulfate.

Acceptable Ingredients:
Decyl glucose, cocamidopropyl betaine, coco betaine, sodium cocopolyglucoside tartrate, sodium cocopolyglucoside citrate, cocoamphoacetate, cocoamphodipropionate, disodium cocoamphodiacetate or cocoamphodipropionate, lauroamphoacetate, sodium cocoyl isethionate, sodium lauryl sulfoacetate, disodium laureth sulfosuccinate, cetearyl alcohol, stearalkonium chloride.

— K.F.