JUST FOR MOMS: WHAT WILL YOU BE FOR HALLOWEEN?
Related:
halloween
,
costume
,
moms
,
dress up
,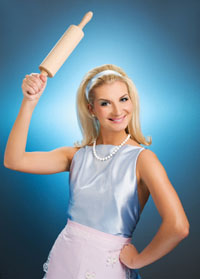 All across the region, moms help their kids get ready for Halloween. They put 100 percent of their effort and attention into getting the costume just right - and then at the last moment realize they have nothing for themselves to wear!
The trick to the perfect mom costume is using what you already have. Here are some good ideas that can be found all over your house.
In the Bathroom
Let your face become your canvas! Any makeup can become Halloween makeup with a little water and creativity. Intensify the color by dipping a makeup brush or Q-tip in water and then using it with your eye shadow, blush, or body shimmer. With an upward stroke around the eyes, you can get an Egyptian look; round circles on the cheeks and you have a baby doll appearance; and quick whiskers and a nose can be painted on to become a cat or dog. Your makeup drawer provides a whole host of colors.
Slippers and curlers can give you the just-out-of-bed appearance. You can make your hair look crazy with hairspray, add some temporary color with food coloring, or use a wire hanger to give yourself Pippi Longstocking braids.
In the Kitchen
This year, with the popularity of the movie Julie & Julia, the other mothers will know exactly who you are if you put on a dress, an apron, high heels, and a string of pearls while carrying a whisk or a rolling pin. And there are other costumes that can be created with an apron; the trick is the accessories you carry. If you want to be a barista, wear an apron and carry empty coffee cups with your favorite brand on it. The same thing can be done with a pizza place, donut store, or ice cream shop. It is all about the props and the apron.
In the Recycling Bin
Use your recycling bin to make a variety of green statement costumes. To become a landfill, tie plastic shopping bags onto your clothes. You can be a small landfill or a giant one depending on how many plastic bags you have around the house. To be a dead tree, attach recycled paper goods everywhere you can. Be creative: they could be strung together and worn as a scarf or attached to butcher paper and worn as a dress. The good thing is that when you are done, you can still recycle these costumes.
Think Outside the Box
Look around your house to see what you have and then brainstorm a costume based on what you find. If all you have is a bunch of old newspapers, then grab a bike and the stack of newspapers and become the newspaper delivery girl. If all you have is a lot of books, then find the most conservative clothes you own, put your hair up in a bun, put a pencil in your hair, and be a librarian. And when all else fails, stick a pillow under your shirt and make the neighbors wonder if you are really pregnant again or not!
KAYLA FIORAVANTI, RA is the chief formulator and co-founder of Essential Wholesale and Essential Labs. www.essentialwholesale.com.
More Halloween Articles Articles
7 Tips for Trick-or-Treating with Your Toddler
New Book Encourages Kids to Give Up Halloween Candy
Halloween Activities in Bucks County, PA
DIY Alien Monster Egg Halloween Decoration
Toddler-Friendly Halloween Events in Fairfield County, CT