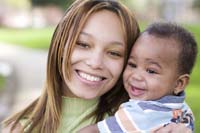 We know — being a new mom can be overwhelming sometimes. That's why we're sharing some tips to make things a little easier.
   Keep a nice hand moisturizer next to the baby's changing table so that every time you change a diaper, you can also moisturize your hands.  All that hand washing can lead to dry hands, which makes you look (and feel) old.  I like L'Occitane mom & baby balm, with calendula; if your child has very sensitive skin, use an unscented cream.
Judy Antell, Editor-in-Chief, NYMetroParents
   Although you feel as if you don't have a spare second, take a moment to put on lipstick, even if you're just going to the playground or to run an errand. It will make you feel special.
Susan Hodara, Consulting Editor
   When I was in the throes of midnight feedings and extreme tiredness, it really helped to get dressed as I normally would rather than slump around all day in sweats and t-shirts. It can be tempting to throw anything on and go out, but you'll feel better if you dress up a bit. So buy some new clothes or a new pair of shoes. It will remind you that although you're always a mommy first, you still have to make time to take care of yourself.
Danielle Sullivan, Managing Editor
   CONSEQUENCES. Without them we're powerless. They are the only leverage we have as parents. And don't be afraid to use the word "no" and mean it. When "no" becomes maybe, you're doomed!
Paola Patrissi, sister-in-law of Julie Ruggiero, Assistant Editor
   Burt's Bees Baby Bee Dusting Powder is made with powdered rosebuds. I use it on my daughter when I change her diaper and since it smells so yummy — and light — I use it on my own arms and neck before going to bed.
Alison Reiser, Assistant Editor 
   There's no need to skip taking a shower when you're watching the baby. You can bring her along in the bathroom in a bouncer seat so she is occupied.
   But if you're really pressed for time and there's no way you can fit a shower in, baby powder can serve as a great fix for greasy hair. Sprinkle some on your comb or brush and then work through hair; the powder will absorb the excess oil. Just make sure to comb through completely so there are no white patches on your head; they can look like dandruff!
Celene McDermott, Assistant Editor
   The most important beauty tips I can think of are sleep, exercising in the fresh air, and getting to the salon for a great, low-maintenance haircut.  When I had my first baby, she was a champion cat napper, which didn't allow me to get much done in the 10 minutes she'd be asleep.  The only way I could get her to nap for a few solid hours was to take her for a walk in the stroller, so I combined her nap with my exercise.  It was great to get us both outside in the fresh air. And the dog loved it, too!
   On the weekend, while my husband covered for me at home, I found going to the salon to be a relaxing break. I had my stylist give me a haircut that required little time to make presentable but that was still stylish.  
   Sleep is still an issue at our house. My two oldest girls are now teenagers, so I have to wait up for them to get home. And my 6-year-old still likes to make herself at home in my bed in the middle of the night. I haven't got a good beauty tip for catching up on the sleep except to get a great under-eye concealer!
Gwen Baker, Assistant Editor