Like many parents of young children, Murray Hill mom
Jill Starishevsky
worried about leaving her little ones (Becca, 3 months, and Ally, 2 years) in the hands of a nanny. While some parents install hidden cameras in their homes, or enlist friends to spy on their nannies, Starishevsky created a new service,
HowsMyNanny.com
, that lets anyone report on a nanny's behavior.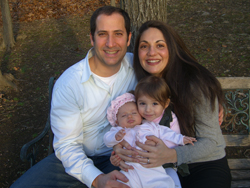 Jill with Ted, Ally and Becca

We've all experienced seeing a nanny ignore her young charge — or worse — and thought: What would the parent think if they knew what was going on?

Now, parents can subscribe at
HowsMyNanny.com
and receive an actual stroller license plate. The metal plates each have a number, and anyone who notices inappropriate — or praiseworthy — behavior can go to the website and report it.
So far, most of the feedback involves negligence: a nanny falling asleep on a park bench while a baby is in the stroller, or a nanny talking on a cell phone and ignoring a crying child. Starishevsky stresses that reports of hitting or abuse should be directed to the police.
Starishevsky, a lawyer currently on maternity leave from the Child Abuse and Sex Crimes Bureau of the DA's Office, explains that subscribers do not know who files a report, but she closely monitors the site so that prank complaints cannot be made. Complaints must include the date, time and location of an incident.
Also, though parents do not know who is filing a report, those who do must provide a name, phone number and email address to the site manager. There's an alert if the same email address makes three or more reports.
When a report is made, the site automatically emails the subscriber, who must visit HowsMyNanny.com to find out what was said. That way, she explains, parents don't have to check the site constantly, and Starishevsky knows that the parent has read the report.
Starishevsky says she hopes the reports "open up lines of communication with a nanny." Her goal is not to get nannies fired, she stresses, but to ensure quality childcare and give parents peace of mind. She agrees that the people who sign up tend to be highly vigilant parents, but explains that this is also a way for complete strangers to "not turn a blind eye" to what they see on the street or at the playground.
The service costs $50 a year. Each 4 x 7 plate has a unique number, and parents who have more than one stroller can get an extra plate for a nominal fee. The plates lock onto a stroller with cable ties, so they can't be easily removed. (This works both ways; parents who sign up will have the plates on their strollers when they are out with their baby).
Nannies can use positive reports as "letters of recommendation" when they are seeking new jobs. Starishevsky's husband is contacting nanny agencies around the city; the aim is to have agencies urge their parent clients to sign up for the service.
It's not just NYC parents who are signing up for
HowsMyNanny.com
. Starishevsky said that although the service launched less than two months ago, there are already international subscribers.
Both Starishevsky and the parents who subscribe want to hear positive reports, so if you see a nanny
doing a good job, jot down the plate number. To sign up, go to
w
ww.howsmynanny.com.