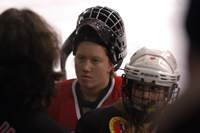 Nicole Grosser knows what she likes. Before every game, this young ice hockey player begins the morning with a bacon, egg and cheese sandwich. "It's from Vasi Deli," says her dad and coach, Perry Grosser. "She rarely misses her weekend breakfast there."
   Just as she knows what she wants for breakfast, Nicole, 13, has known what she wanted since her first hockey game with the Westchester Mariners coed team at age 5. "My dad and older brother, Andrew, played hockey, and I became interested in it, too. The Mariners is a great organization. I learned a lot about sportsmanship, team spirit, goaltending, and respect for the game," she says, acknowledging that a lot has happened since she laced up her first pair of skates.
   Nicole has climbed steadily in the ice hockey ranks. After several years with the Mariners, she joined the all-girls' Rye Rangers and has been playing with various teams since. She attended hockey camp at Dartmouth University in New Hampshire at age 11, competing with other players between the ages of 14 and 19. And she may well have been the youngest goalie in the 31st Empire State Games in Binghamton this past summer, where she represented the Hudson Valley and helped her team finish in fourth place.
   In 2006 Nicole played goalie for the Westchester Mariners in the Lighthouse Tournament — the largest youth hockey tournament in Long Island history — against the Charles B. Wang Ice Hockey Project Hope teams from Harbin and Qiqihar in China. "Nicole is an up-and-coming goaltender who works hard at the sport," says Mariners director Rich Guberti. "She is extremely dedicated, and I look forward to seeing her play college hockey in the future."
   One souvenir from the Mariners game is an orange New York Islanders hockey jersey signed by both the New York team and several members of the Chinese team. "The (Chinese) kids didn't understand at first when I asked them to sign my jersey," Nicole says. "Then suddenly they were all huddled around and signing it."
   Last year, while playing for the Sound Shore Warriors 19U team, Nicole met Ashley Trimble, head coach of the Mamaroneck/Rye Ice Cats. "Our goalie had had surgery and we were scrambling to find a replacement," Trimble says. "At first we were a little skeptical about having a 12-year-old goalie playing against 17- and 18-year-old girls, but Nicole stepped in and graciously filled the void for us."
   Trimble says Nicole played with the team whenever she could, even after the team's goalie returned. "This year I'm happy to have Nicole on our team all season," Trimble says. "She is very mature physically and mentally, and it's evident in her game." Since she's been goalie and forward for the Mamaroneck/Rye Ice Cats, the team has won the New York State Girls 12U championship, and the GAL League Bronze 12U Division Championship.
   When asked which teammates she prefers on the ice, Nicole answers with a smile: "Girls' teams are friendlier. I was once the only girl on an all-boys' team, and girls are much friendlier."
   This season Nicole is playing varsity girls' hockey with the Wildcats at Rye Country Day School. Practice is an average of two hours a day; when her team is on the road she spends even more time on the ice. Yet despite a full schedule, she manages her time well. "We do our homework and study on the bus to and from games," she says.
   "Our school has a sports exemption," she continues. "Kids who play on a team for a certain number of hours each week get a study hall at the end of every day, and that extra study time really helps me finish my homework."
   Then she can devote her attention to her game. No matter who's on the opposing team, Nicole feels playing is its own motivation. "It's a great feeling when you win a game," she says.
   And it's fun, too. "Once you make friends with a team, it's not like going to practice," Nicole says. "It's like hanging out with your friends."
   For more information on girls' hockey, please contact Bob Meglio at [email protected].