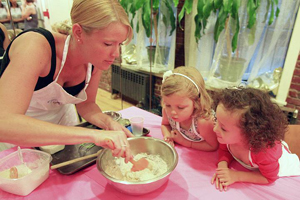 Sweet Whoopie Pies
Cookies
1 C flour
1/2 t baking soda
1 pinch salt
1/4 C cocoa powder
1/2 C sugar
1/2 egg
2 T vegetable oil
1/4 C +2 T milk
Filling
1/2 stick butter, room temperature
1 C powdered sugar
2 t vanilla
2 T milk
green or orange food coloring (optional)
Directions:
1. Preheat oven to 350°F .
2. In a large bowl, whisk together the flour, sugar, baking soda, salt, and unsweetened cocoa powder.
3. Add egg (to get ½ of an egg, whisk 1 egg and use half of it), vegetable oil, and milk; stir with spoon until combined and no lumps of flour mixture remain.
4. Scoop batter onto baking sheet and cook for 10 to 12 minutes.
5. Cool on baking sheet.
6. To make the filling, mix the butter and powdered sugar until well combined (an electric mixer will make this step easier).
7. Add vanilla, milk, and orange or green food coloring (optional) and mix well, until uniform in color.
8. Scoop the filling onto a cookie and then place another cookie on top.
9. Ta da! You have a Whoopie Pie. Serve with milk and enjoy!