This past October saw the grand unveiling of nearly 1,900 videogame machines at Empire City at Yonkers Raceway, with another 3,600 to be added when the facility is complete. Local politicians touted the "good" the venue will bring to Yonkers and the county, and the New York State Lottery director projected over $400 million to be raised there for education.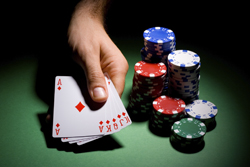 But all this excitement in the name of gambling overshadows the serious problems the activity can cause when young people get caught up in its "thrill". In 2005, the National Council on Problem Gambling reported that 70 percent of young people between the ages of 10 and 17 had gambled that year. Statistics indicate that adolescents are at far greater risk than adults to develop a gambling addiction. Further, some researchers are finding that gambling is a gateway to drinking, marijuana smoking, truancy and unprotected sex.
   Reports show that the closer a community is to a gambling site, the higher the rate of gambling problems. "Even the proximity of Yonkers Raceway's new casino should flash danger signals to parents," said one member of Gamblers Anonymous. And online gambling is even more accessible.
   How can we protect our kids when there are few public campaigns to raise awareness about the dangers of gambling addiction and the risks involved? Addiction experts urge parents, teachers and other adults involved with youth to be aware of the many ways young people are bombarded by gambling opportunities, and to discuss the harmful consequences. The Journal of Gambling Studies suggests that greater parental involvement is attributed to reduced adolescent gambling. Nevertheless, lures are everywhere, and cautions are minimal.
   The New York State lottery is advertised pervasively, and though revenues go toward education, the attraction of a multi-million dollar payout is never tempered by noting the astronomically small odds of winning. The experts advise that schools that hold bingo or casino nights should post warnings about how easy it is to lose, and warn that only a certain amount of money should be allocated in advance for the event. Guidance counselors should be alert to signs of gambling addiction. Adults who head to casinos should explain to their children or grandchildren that they are not using any money they need for necessities. Parents should recount to their children that an addicted adult can destroy his family's life by losing money he needs to support them.
   When trouble does arise, there is help. Westchester Jewish Community Services sponsors a Problem Gamblers Recovery Program based in New Rochelle. Program coordinator Frank Limone explains that kids who start out watching poker tournaments on television believe the game is quick and easy.  Online games offer "free" play sites before progressing to playing for money. Teens may not understand that these games involve real money because they are used to playing video games.
   Limone cautions that gambling is also used as a way to reduce anxiety, making the player feel in control and warding off feelings of helplessness and powerlessness he may experience in other parts of his life. Limone cites the example of a young man who came to him clutching his newspaper betting sheets and saying, "I am afraid. I can't stop myself." The lure of gambling is ultimately not about money, says Limone, but about "the rush like one gets from cocaine." There is no cure for gambling addiction, he says. "Relapse prevention is key to treatment."
 Where to find help
Problem Gamblers Recovery Program, 914-632-6433, ext. 11
Gamblers Anonymous, 845-226-0830; 24-hour hotline 877-664-2469
National Council on Problem Gambling, 24-hour helpline, 800-522-4700
New York Council on Problem Gambling, 800-437-1611; www.nyproblemgambling.org
St. Vincent's Gamblers' Treatment Program, 718-818-5048
Youth Gambling International, [email protected]
Youth Gambling Intervention, www.gamtalk4teens.org